Coconut flour pancakes are an easy and healthy breakfast recipe. These pancakes with coconut flour are made with bananas, coconut oil and almond milk so they're clean and paleo!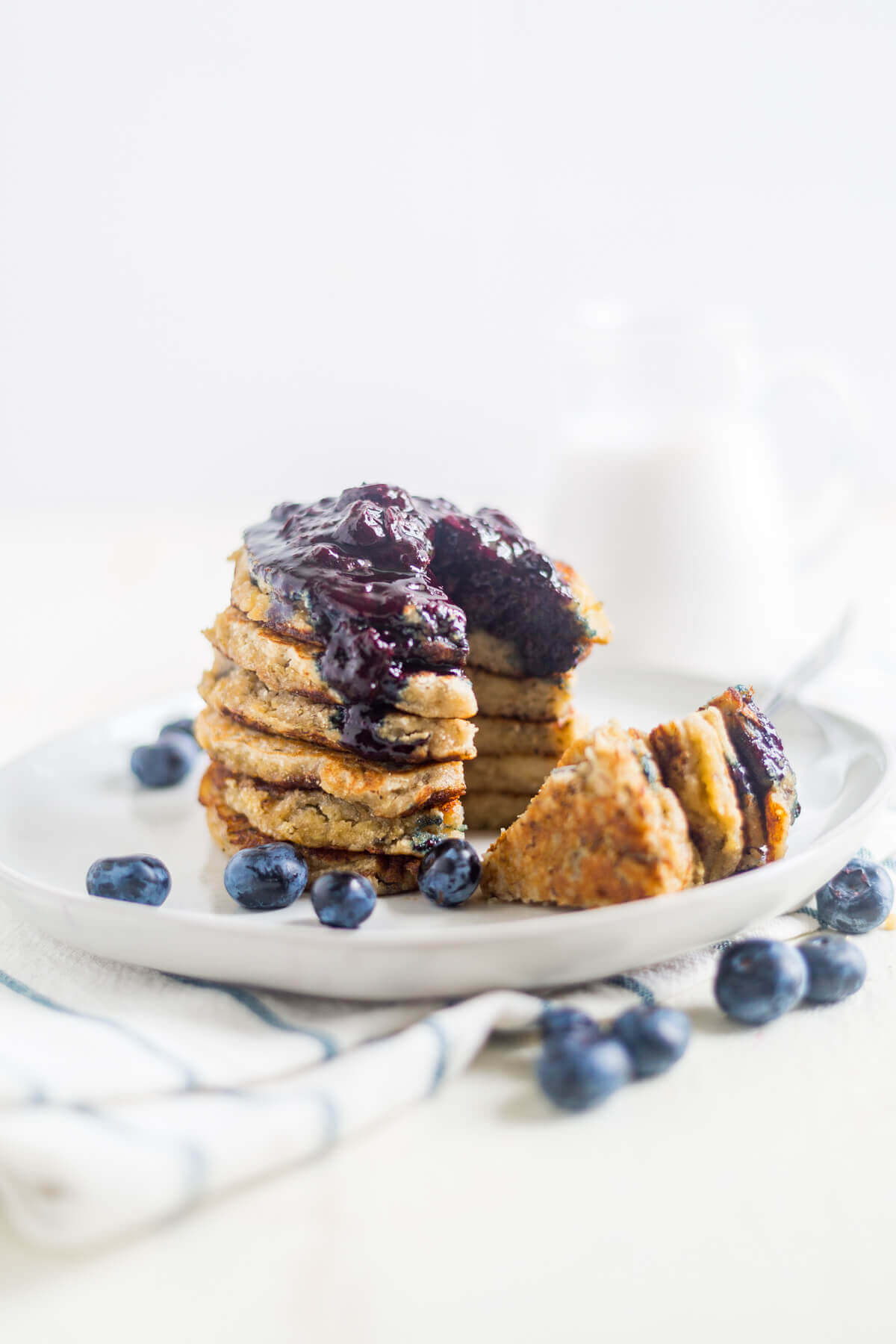 If you're a regular around here you know I LOVE a good breakfast recipe. There's something about pancakes, muffins and bread that make me so happy. After Zach proposed to me we made a huge batch of pancakes to celebrate.
And if you can't tell by my banana oatmeal pancakes, I'm a HUGE pancake lover. Especially when they involve healthy blueberry syrup.
I typically use oats or whole wheat flour when I make pancakes but I know so many of you like to eat paleo or grain free. These coconut flour pancakes are the perfect alternative! And the taste and texture is just as good!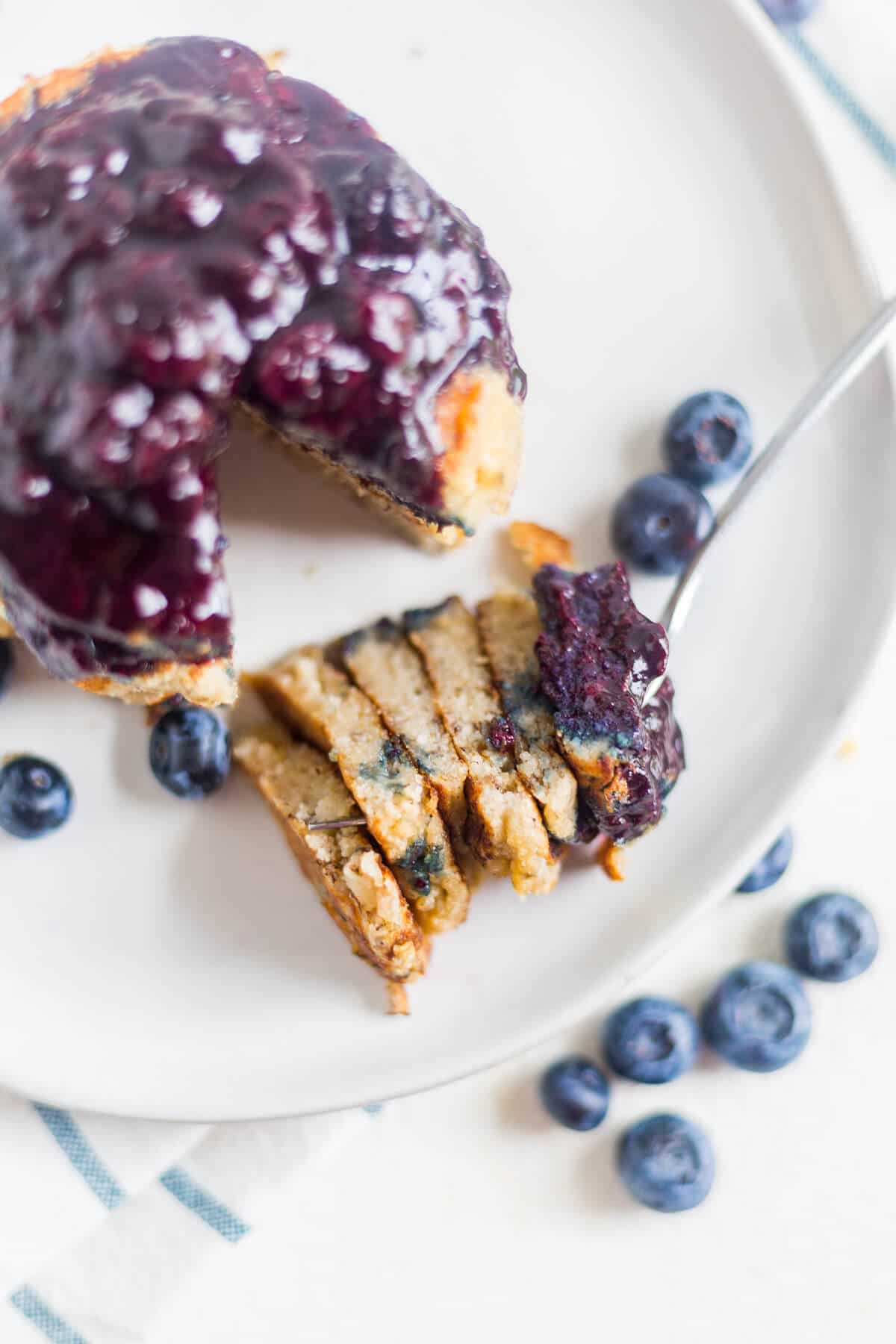 Can I Use Coconut Flour to Make Pancakes
Yes, you can use coconut flour to make pancakes, you just don't need as much flour as you would in a typical recipe. Coconut flour absorbs A LOT of moisture so you tend to need ⅓ of the flour as traditional flour.
When making coconut flour pancakes you'll use a lot more moisture to make sure the pancakes aren't dry.
Is Coconut Flour Good for Keto
Coconut flour is a great alternative if you're following a keto diet! Because it's made with coconut it's low in carbs:)
My coconut four chocolate chip cookies are the perfect keto option cookie. This recipe, however, includes mashed banana and because they're high in carbs this recipe is not a lower carb recipe. However, I would recommend trying almond butter in this instead of the banana if you want to give it a try!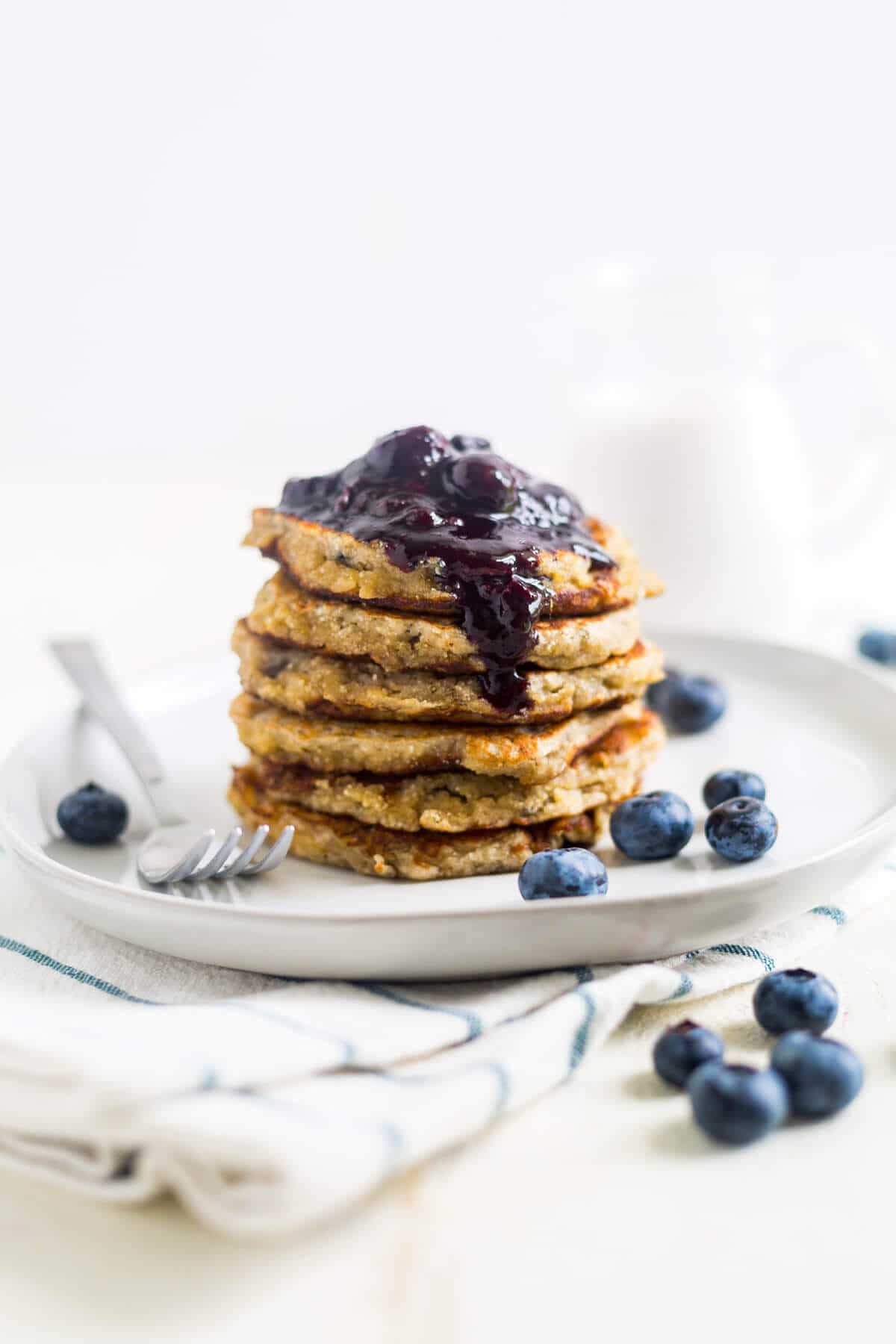 Can I Use Coconut Flour Instead of All Purpose Flour
You cannot use coconut flour instead of all purpose flour in an even swap because your pancakes will be dry. As I mentioned above, coconut flour absorbs a lot of moisture so you need a lot less coconut flour. If you try to swap it out evenly you'll end up with super dry pancakes!
Is Coconut Flour Good for You?
Yes, coconut flour is great for you! It's made out of coconut so it's high in healthy fats and it's low in carbs! If you're following a low carb diet coconut flour is a great option.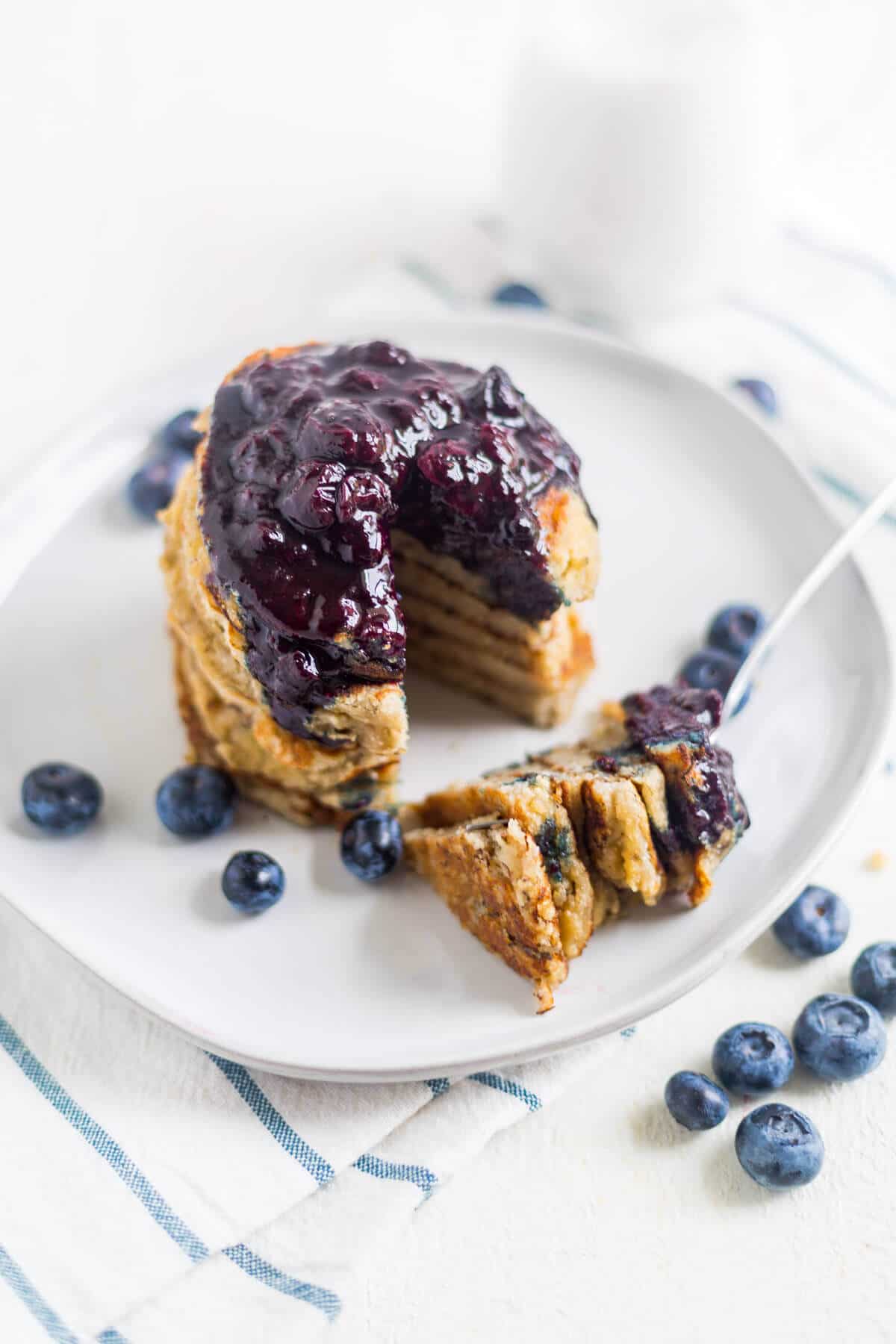 Now that we've covered all things coconut flour, let's talk about the rest of this paleo coconut flour pancakes recipe. We're using 3 eggs (to balance out the coconut flour) and almond milk to go along with the mashed banana. We're also using a touch of cinnamon, cinnamon and maple syrup to make them sweet.
How to Make Coconut Flour Pancakes
To make coconut flour pancakes you'll mix all of the dry ingredients together and add them to the wet ingredients in a large bowl. The batter will be very thick. Not quite a paste but definitely thicker than most pancake batter.
Pour the pancake batter onto a skillet over low heat. Coconut flour can burn easily so it's important to keep the burner on low. If not, you'll end up with pancakes burnt on the outside and not cooked all the way through.
Cook for about 3 minutes on each side. These are a little tricky to flip so I like to use two spatulas to flip them over. A little unconventional but it works!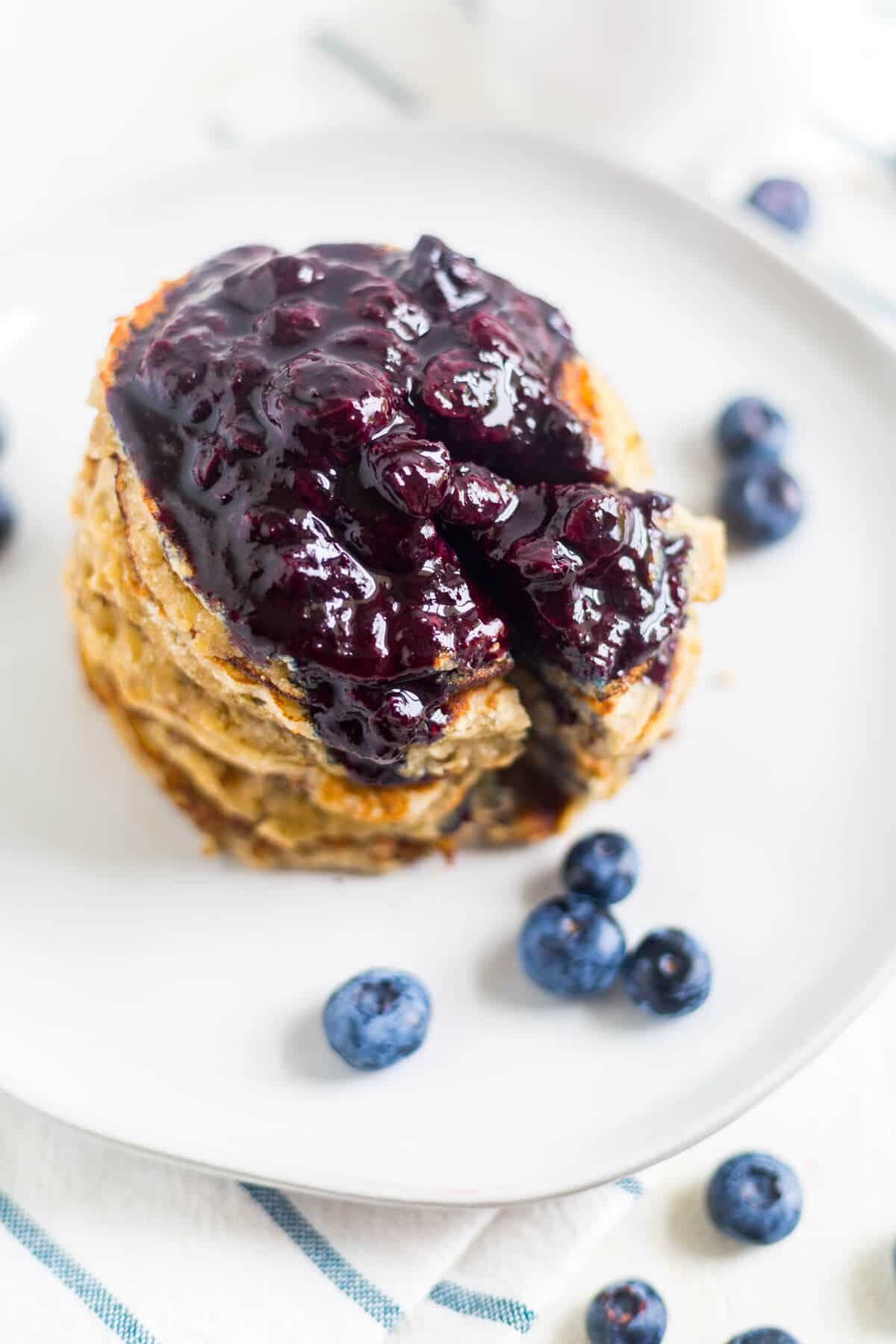 What Goes Into Homemade Blueberry Syrup
Before you start making the pancakes I would get the blueberry syrup going! All you're going to do is add blueberries, water and a little lemon juice to a pot and let it simmer.
The blueberries will cook down and thicken and turn into a healthy syrup to top your coconut flour pancakes!
You can store these coconut flour pancakes in an air tight container in the fridge for up to 3 days. I like to eat mine right away but that's a good route to take if you're planning to meal prep them!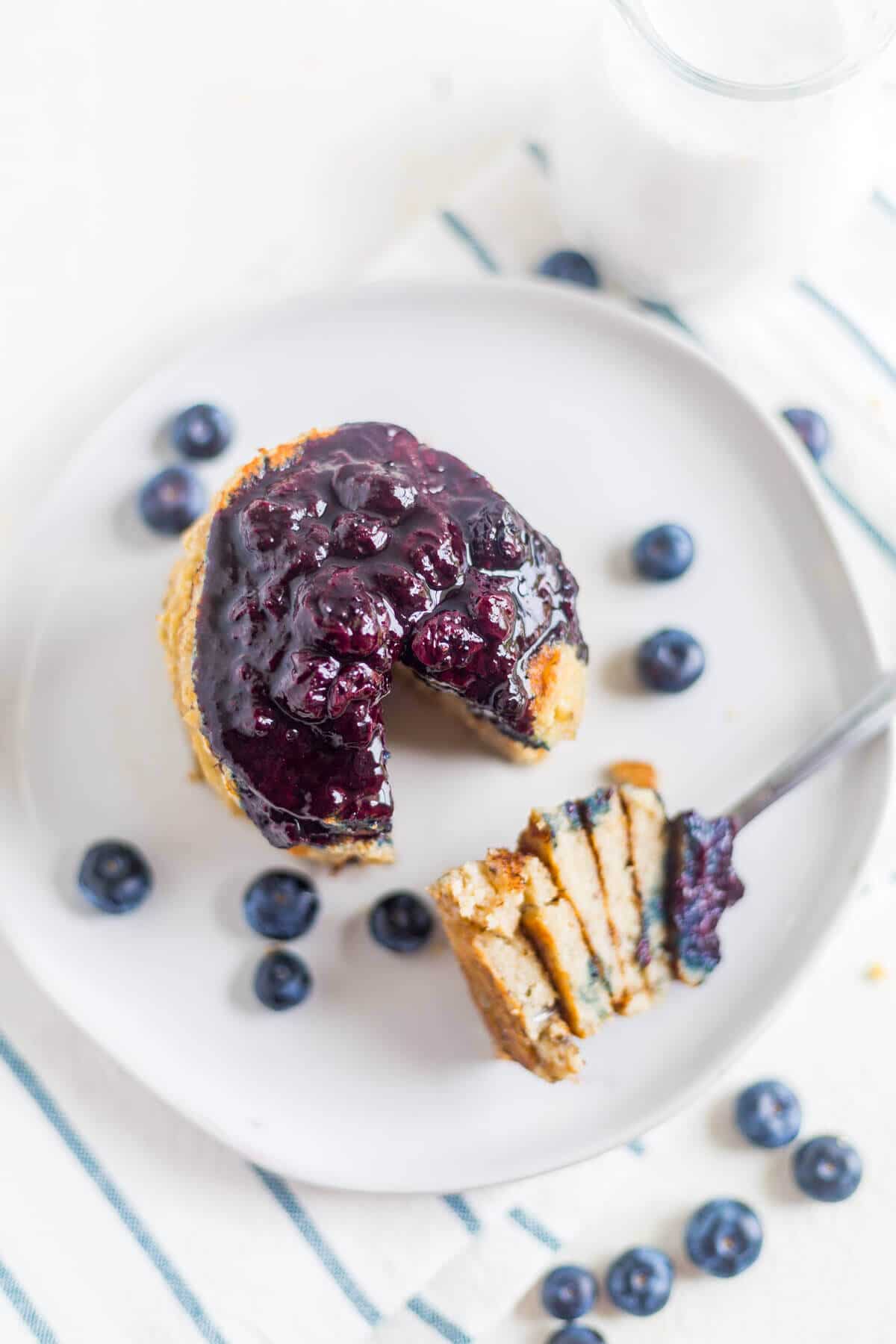 If you love this recipe don't forget to follow me on Instagram and tag me with #WhatMollyMade or @What_MollyMade so I can see it and feature you.
More blueberry breakfast recipes: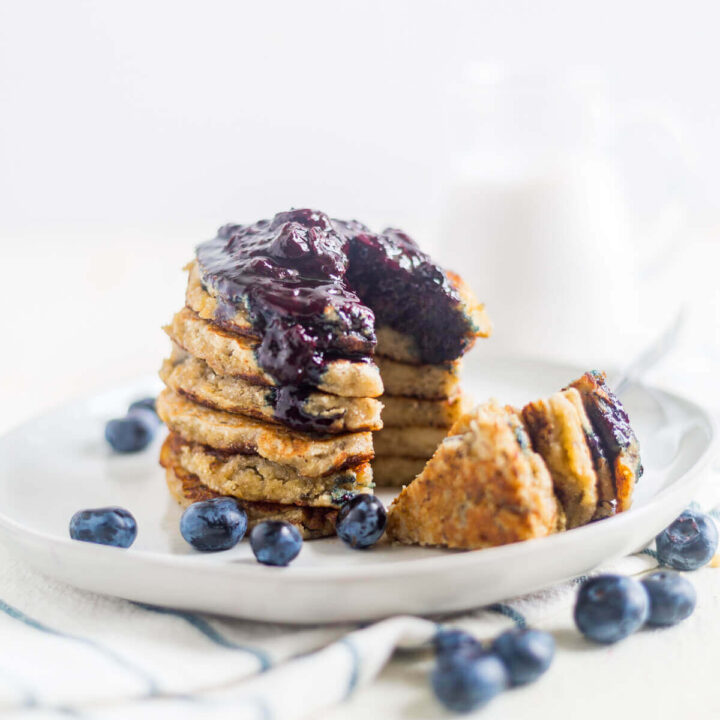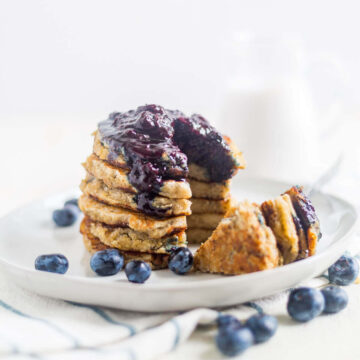 Coconut flour pancakes
Coconut flour pancakes are an easy and healthy breakfast recipe. These pancakes with coconut flour are made with bananas, coconut oil and almond milk so they're clean and paleo!
Print
Pin
Rate
Save
Saved!
Ingredients
Pancakes
⅓

cup

coconut flour

1

teaspoon

baking soda

2

tablespoons

coconut oil

melted

3

eggs

slightly beaten

1

tablespoon

maple syrup

2

medium banana

mashed

⅓

cup

unsweetened dairy free milk

I used coconut milk

⅓

teaspoon

sea salt

½

teaspoon

ground cinnamon
Blueberry syrup:
1 ½

cup

Blueberries

3

tabslespoons maple syrup

2

teaspoon

lemon juice

1

tablespoon

water
Instructions
To make the blueberry syrup. In a medium saucepan over medium heat, combine water, bluerries, maple syrup and lemon juice. Bring to a boil then lower the heat and simmer for 5-10 minutes until mixture reduces and thickens.

While thickening, make the pancakes. In a small bowl, combine the coconut flour and baking soda and set aside. In a large bowl, whisk together the melted coconut oil,eggs, maple syrup, banana dairy free milk, sea salt and ground cinnamon, Add the dry ingredients to the wet ingredients and mix well. Mixture will be very thick.

Over low heat in a large nonstick skillet, melt 1-2 teaspoons of coconut oil. Pour ¼ cup batter into the pan and use a spatula to spread it out a bit if needed. Cook for 2 minutes on one side until edges and tops are bubbling then carefully flip (you may need two spatulas) to cook for another 2 minutes on the other. Side. Repeat until all batter is gone.

Serve with blueberry syrup.