Soft and cake-y chocolate cookies sandwiched around sweet marshmallow Oreo frosting/fluff to make the perfect whoopie pie.
Some of the greatest things in the world are sandwiches. PB & J's, grilled cheese, and those store bought chocolate chip cookie ice cream sandwiches you ate in high school. The best.
And these Chocolate Oreo Whoopie Pies are no different.
I mean, we're talking SOFT and CAKE-like cookies with Oreo frosting fluff filling. A chocolate and Oreo lover's utopia.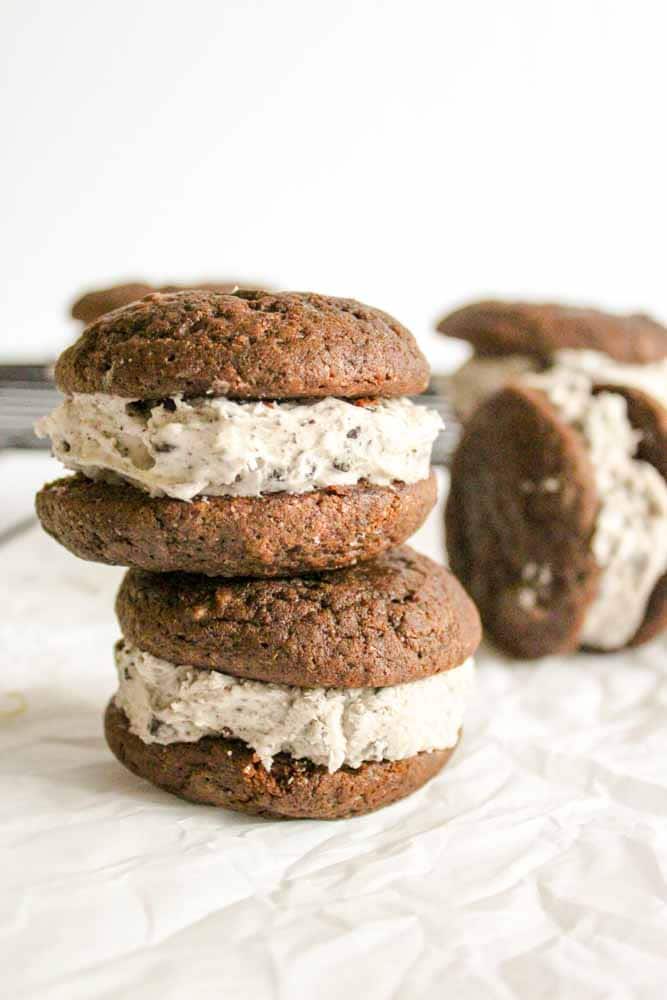 These cookies were my chocolate craving coming to life right in front of my face (mouth). They turned out completely different than I thought they would.
That's because I had no idea how they would turn out. Put me in a kitchen with creative license and it's hard to tell what you're going to end up with. Seriously guys, you should see the notes section of my computer. Hundreds of random recipe ideas pop into my head at the most random times. And if I don't write them down, poof, they're gone. Hence the all-over-the-place, random (yet somewhat organized) notes.
See what happened there? Back to the whoopie pies.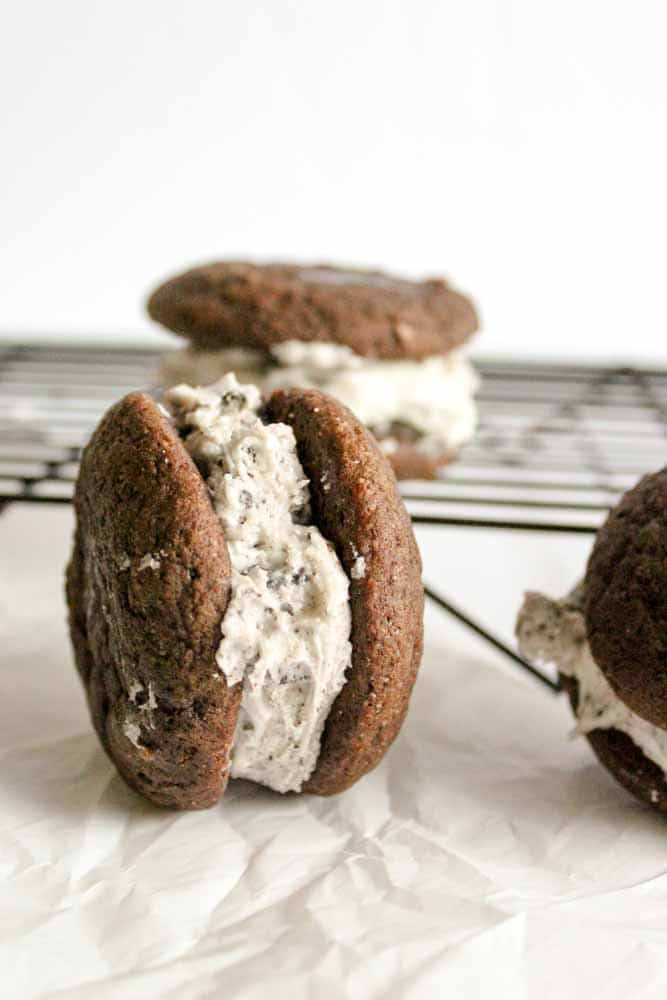 I've made soft and cake-like pumpkin cookies (which I'll totally be turning into whoopie pies in the fall), so I knew I could create the great texture I was looking for. And chocolate tastes good in anything, so that was a no brainer.
But the filling was a little trickier. It's a mash up of Oreos, frosting and marshmallow fluff in one. And it's friggin awesome. When you sink you're teeth into a whoopie pie and get a big chunk of Oreo in the frosting >> nothing better.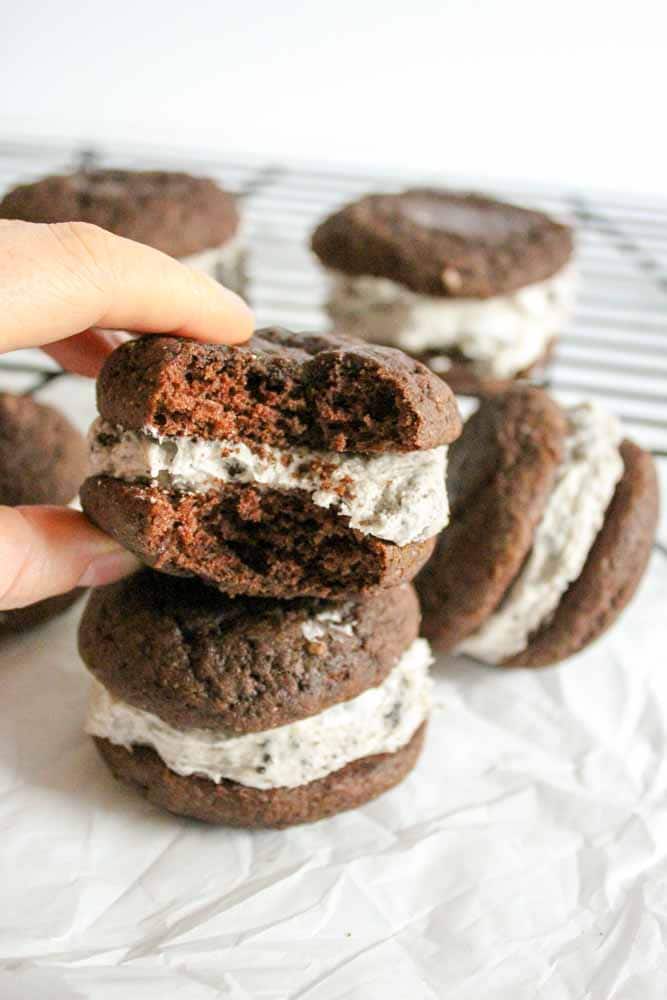 I made these for a bake sale at work a co-worker that was raising money for MS and I like to say these were a part of the reason she was able to raise $2,000 (whoo-hooo!!)!! Okay, they didn't raise that much alone, but they could. They're that good.
Go forth and bake all the whoopie pies!!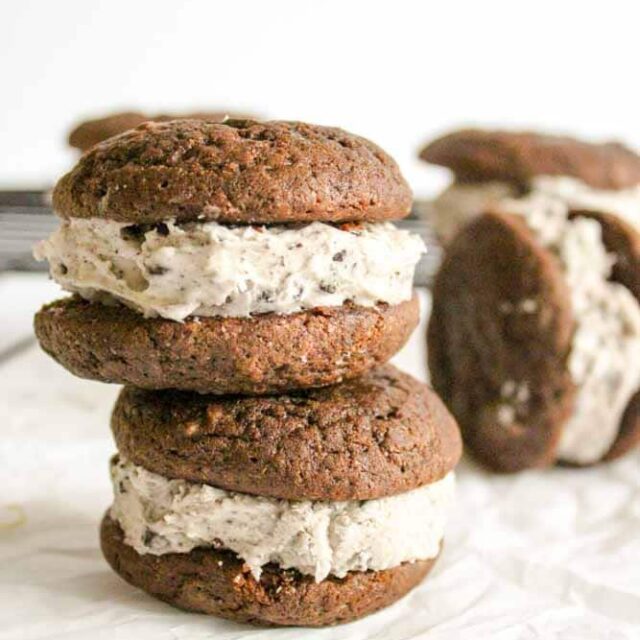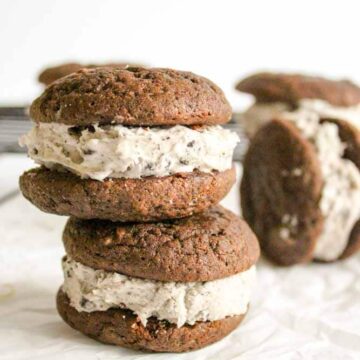 Chocolate Oreo Whoopie Pies
Soft chocolate cookies sandwiched around a light and fluffy Oreo frosting.
Print
Pin
Rate
Servings:
16
whoopie pies
Ingredients
For the cookies
½

cup

unsweetened cocoa

we used Nestle's Special Dark

2

cups

all-purpose flour

1 ½

teaspoons

baking soda

½

teaspoon

baking powder

½

teaspoon

salt

½

cup

vegetable shortening

we used Crisco

1

cup

sugar

1

egg

1

cup

whole milk

2

teaspoons

vanilla extract
For the Oreo filling
8

oz

marshmallow fluff

1/2

cup

shortening

1 1/2

teaspoons

vanilla

4

cups

powdered sugar

6-7

tablespoons

heavy cream

or milk

15

Oreo cookies

crushed
Instructions
Preheat the oven to 450 degrees. Line two cookie sheets with parchment paper and set aside.

In a medium bowl, combine cocoa, flour, baking soda, baking powder and salt. Stir to mix. Set aside.

In the bowl of a stand mixer with the paddle attachment, cream together the shortening and sugar. Add egg, milk, and vanilla extract and mix well until combined.

Slowly add the dry mixture to the wet mixture and mix well.

Using a small scoop (about 2 teaspons) scoop, place scoops of the batter onto the prepared cookie sheets (about 12 per sheet).

Bake one cookie sheet at a time for 6-7 minutes (they may look underdone on the top, that's okay). With a spatula, remove immediately to cool on a wire cooling rack.

While the cookies are cooling, beat together the marshmallow fluff, confectioners' sugar, shortening and vanilla extract in the bowl of a stand mixer or in a large bowl with a hand mixer until completely combined and light and fluffy. Add milk as needed to get to a softer consistency. Beat in the crushed Oreos until combined.

Using a scoop, place a dollop of the filling in the center of the flat side of one cake. Place a matching piece of cake against the filling and push to spread the filling evenly between the two halves. Repeat until all of the pies have been filled.