These Chocolate Fudge Cupcakes are light and decadent with a sweet, nutty almond buttercream frosting. A chocolate lover's dream!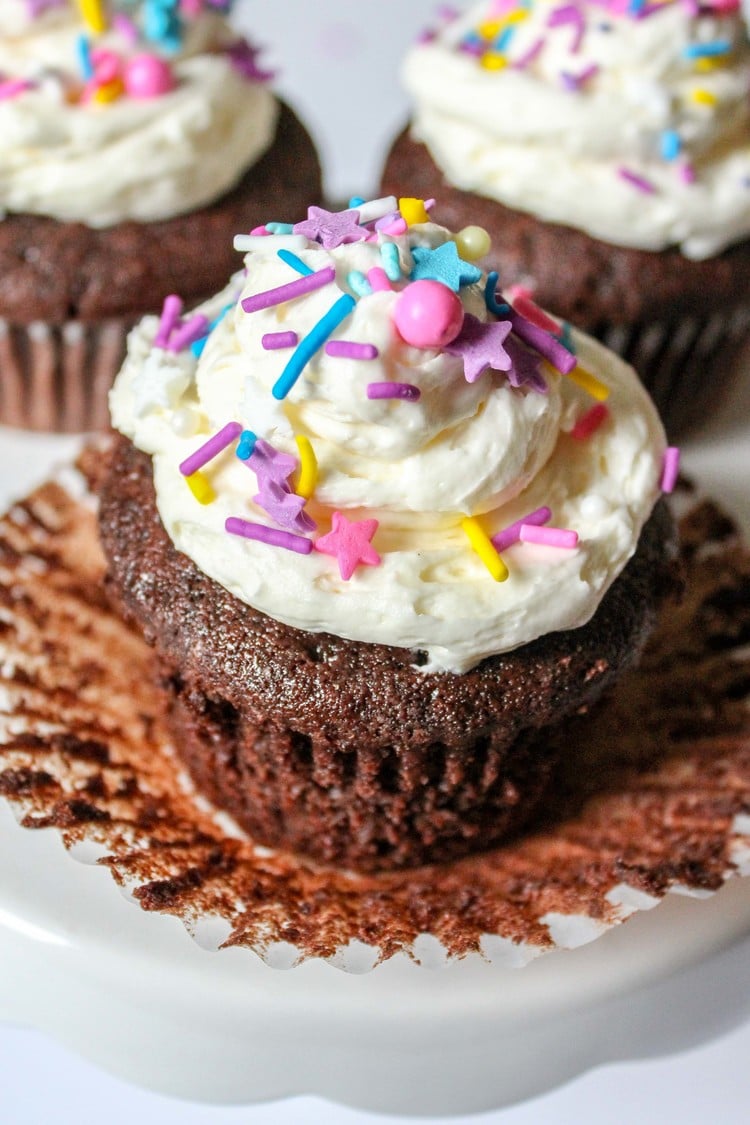 I made these for my sister's birthday a couple of weeks ago. She is a major chocolate lover and requested cupcakes for her celebration. This recipe is dedicated to her and all of the chocolate lovers like her. You will be in chocolate heavennn.
I've been on a crazy almond kick this month (hence the almond shortbread cookies) and knew these pillowy cakes were the perfect vehicle to hold the smooth and decadent frosting.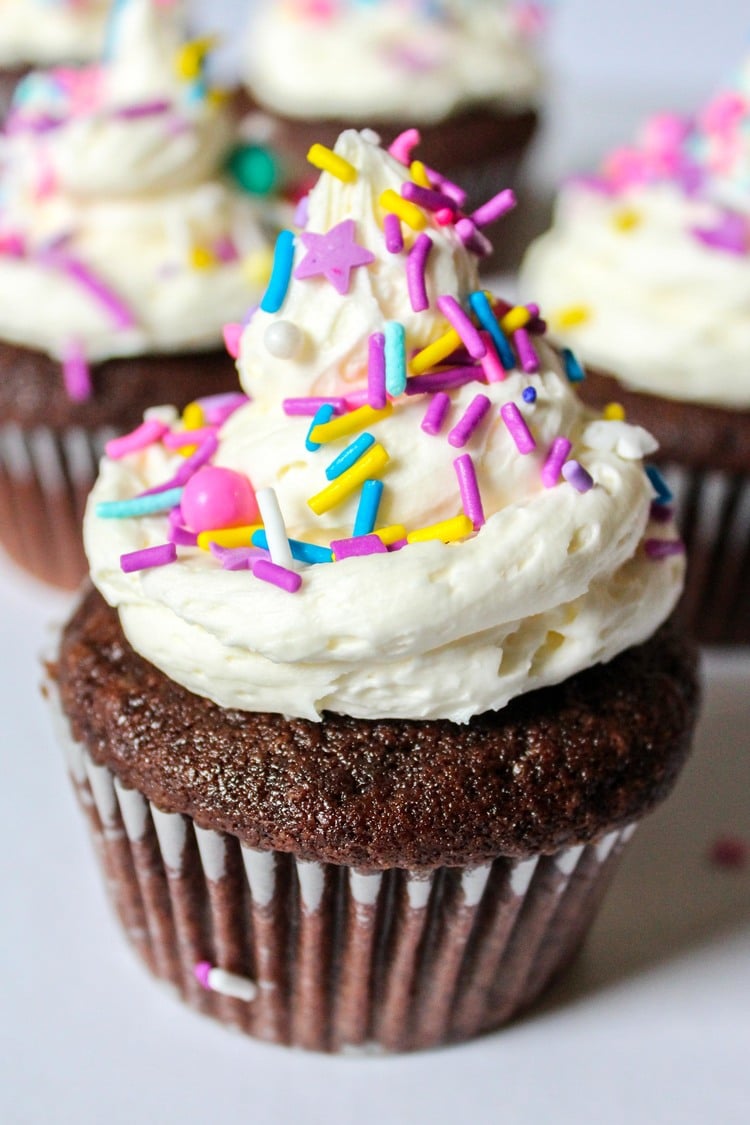 I have to admit, I'm usually a huge fan of boxed cupcakes (I know, I know!). But they are so light and fluffy and I've had a difficult time replicating that texture. But, you guys! This recipe has done it, and then some. It's chocolatey, light and pillowy soft all in one. You take a bite and the light airy texture is so delightful and then the chocolate packs a powerful punch. It's so fudgy and absolutely melts in your mouth.
Make sure you have the buttermilk for this recipe! It makes the cakes rise and creates that light and fluffy texture. I didn't have buttermilk on hand when whipping these up, so I added two teaspoons of lemon juice and filled the rest of the measuring cup with milk. You can do the same thing! Don't have lemon juice? You can also use white vinegar. Both do the trick!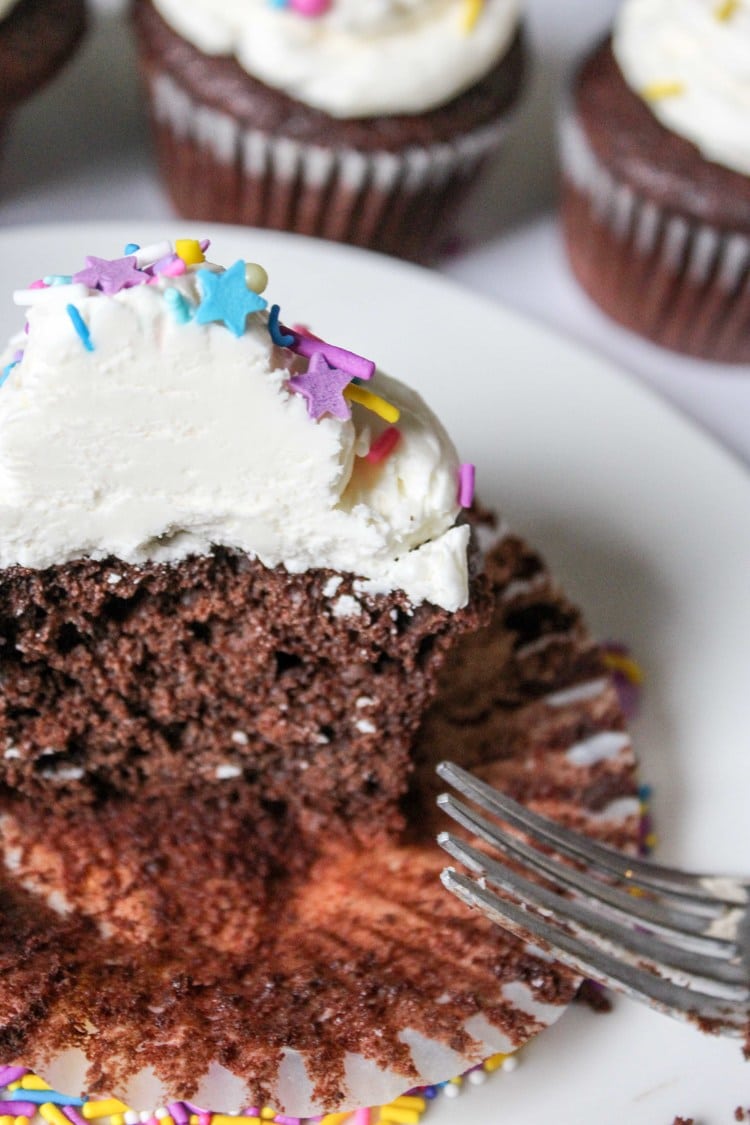 Be warned, the batter for these cupcakes will be thick. Make sure you only fill the cakes 2/3 of the way full. They will really rise in the oven. You don't want them to overflow over the liners because they won't look as pretty when you frost them! Filling them just enough makes them puff up to the rim of the cupcake line and leaves a perfect smooth surface for your frosting.
Speaking of frosting. This frosting is ah-mazainggg. It's creamy, light, nutty and so smooth. And it's the perfect compliment to the rich and chocolatey cupcakes.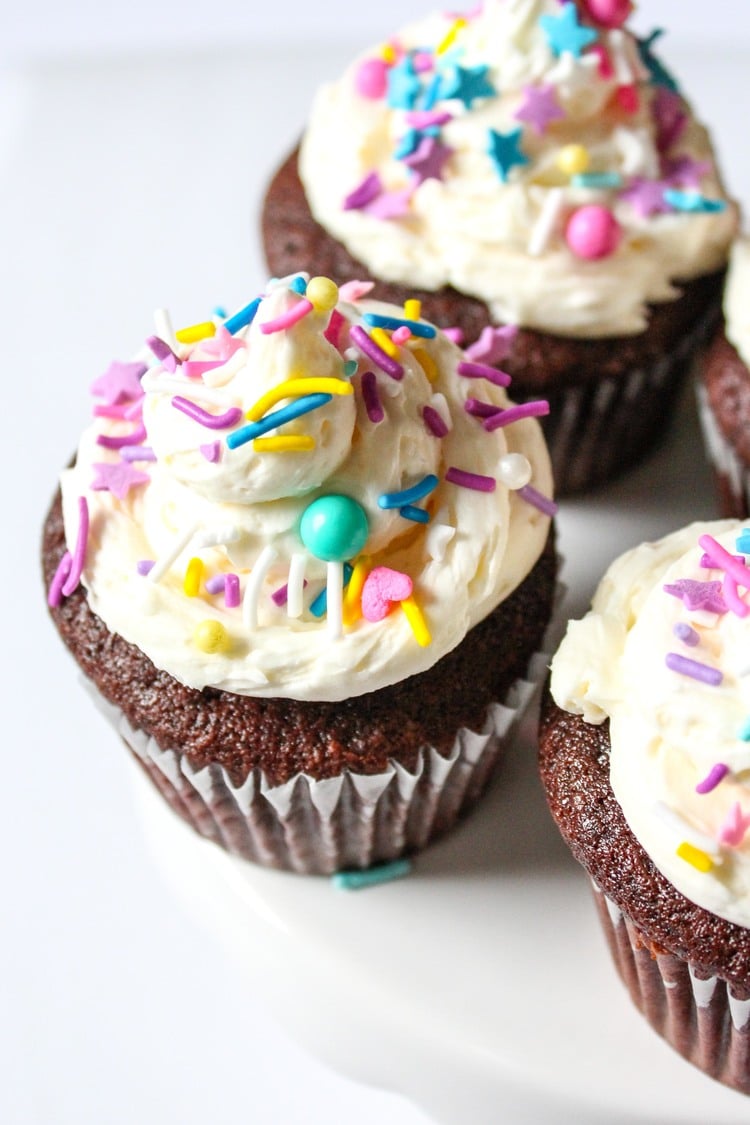 These chocolate cupcakes are perfect for celebrations like birthdays, graduations or new year's parties! (hint hint!). ?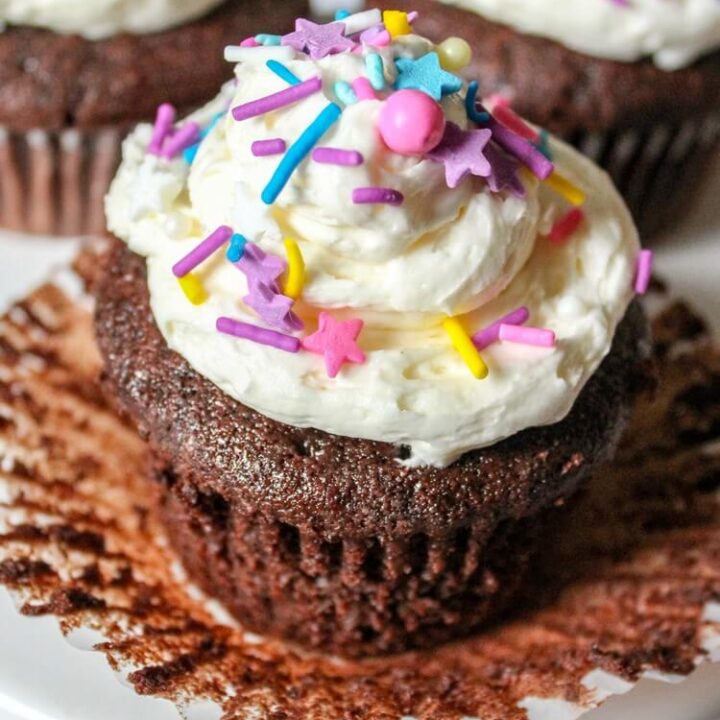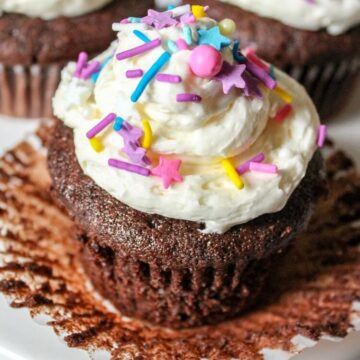 Ingredients
For the Cupcakes:

1/2

cup

butter

1 stick

1/4

cup

semi-sweet chocolate chips

1/2

unsweetened cocoa powder

3/4

cup

all purpose flour

1/2

teaspoon

baking soda

3/4

teaspoon

baking powder

1/4

teaspoon

salt

2

eggs

1/2

cup

granulated sugar

1/4

cup

light brown sugar

packed

1

teaspoon

vanilla extract

1/2

buttermilk

For the Frosting:

3

sticks unsalted butter

softened

4

cups

powdered sugar

1/4

teaspoon

salt

2

teaspoons

almond extract

1

teaspoon

vanilla

2

tablespoons

milk

Sweetapolita sprinkles

optional
Instructions
For the cupcakes, preheat the oven to 350 degrees. Line a 12 cup cupcake pan with liners and set aside to slightly cool.

Melt the butter and chocolate together in the microwave in 30 second increments, stirring between each.

In a medium bowl, whisk the cocoa powder, flour, baking soda, baking powder and salt until combined. Set aside. In a large bowl, whisk together the eggs, sugar, brown sugar and vanilla until well combined. Add the cooled butter and chocolate and mix until smooth. Add half of the four mixture then half of the butter milk. Repeat until both are gone and whisk until just combined. Be careful not to over mix. The batter will be very thick.

Fill the cupcakes 2/3 of the way full and bake for 18 minutes or until a toothpick inserted comes out clean. Allow to cool completely.

While the cupcakes are baking, using a hand or stand mixer, beat the butter on medium speed until creamy and whipped, about two minutes. Sift the powdered sugar and add to the butter a cup at a time. Beat on low after each addition. Add the vanilla, almond extract and milk and beat on low until combined.

Frost cooled cupcakes with buttercream frosting using a piping bag or plastic freezer bag with the tip cut off. I used Sweetapolita sprinkles to decorate.

The cupcake recipe was adapted from Sally's Baking Addiction.