This is my favorite time of the year: it's time for peppermint and chocolate! #love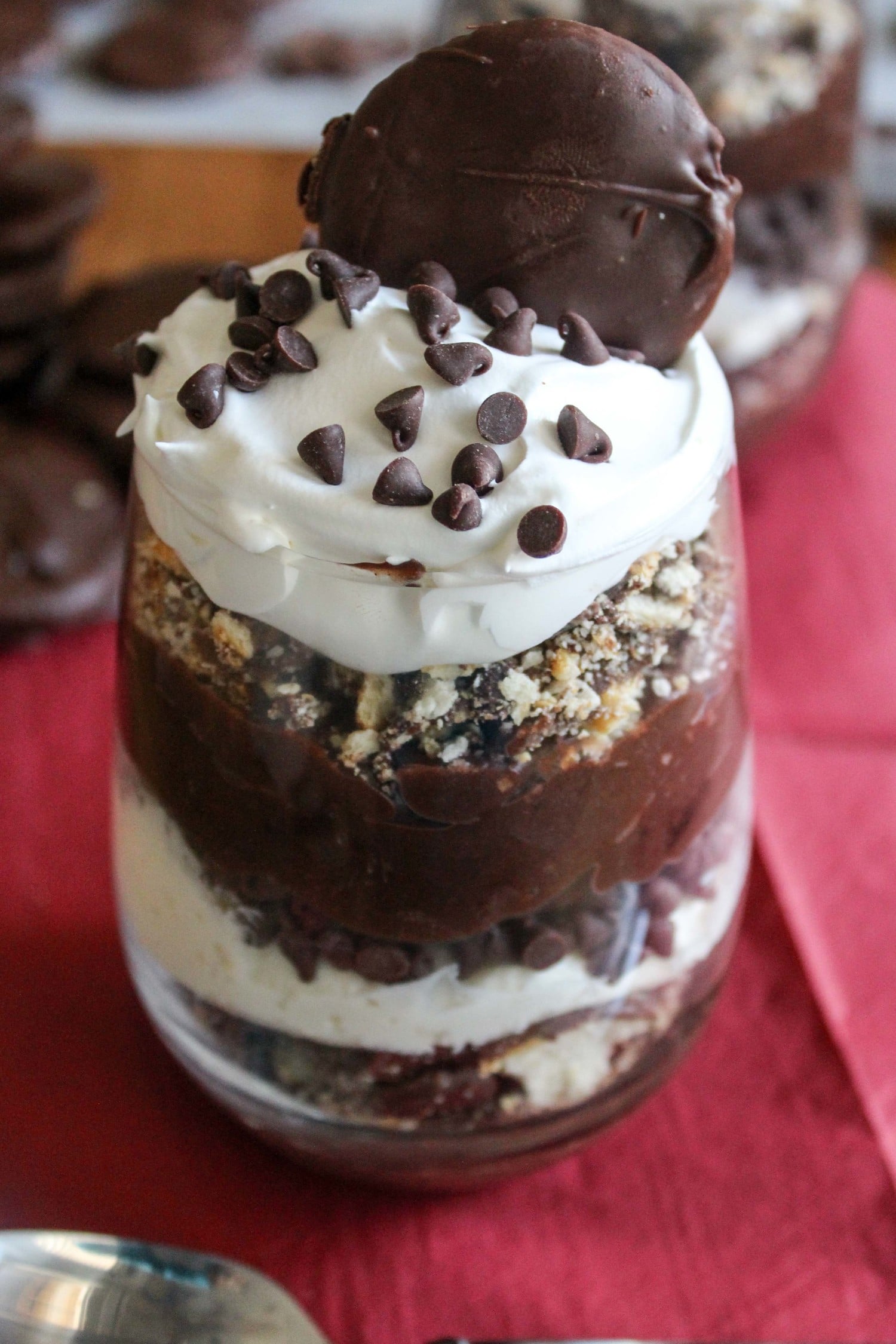 I'm fairly certain I turn into a christmas elf the day after Thanksgiving. I'm watching the Hallmark Channel as we speak (write?). Hellloooo 17 new original movies this year? Cannot pass that up. 12 Gifts of Christmas (currently on) is the bomb.
Then there's the wrapping. I just spend $50 on wrapping accessories at Hobby Lobby yesterday. How does that even happen? 50% off Christmas decor, that's how.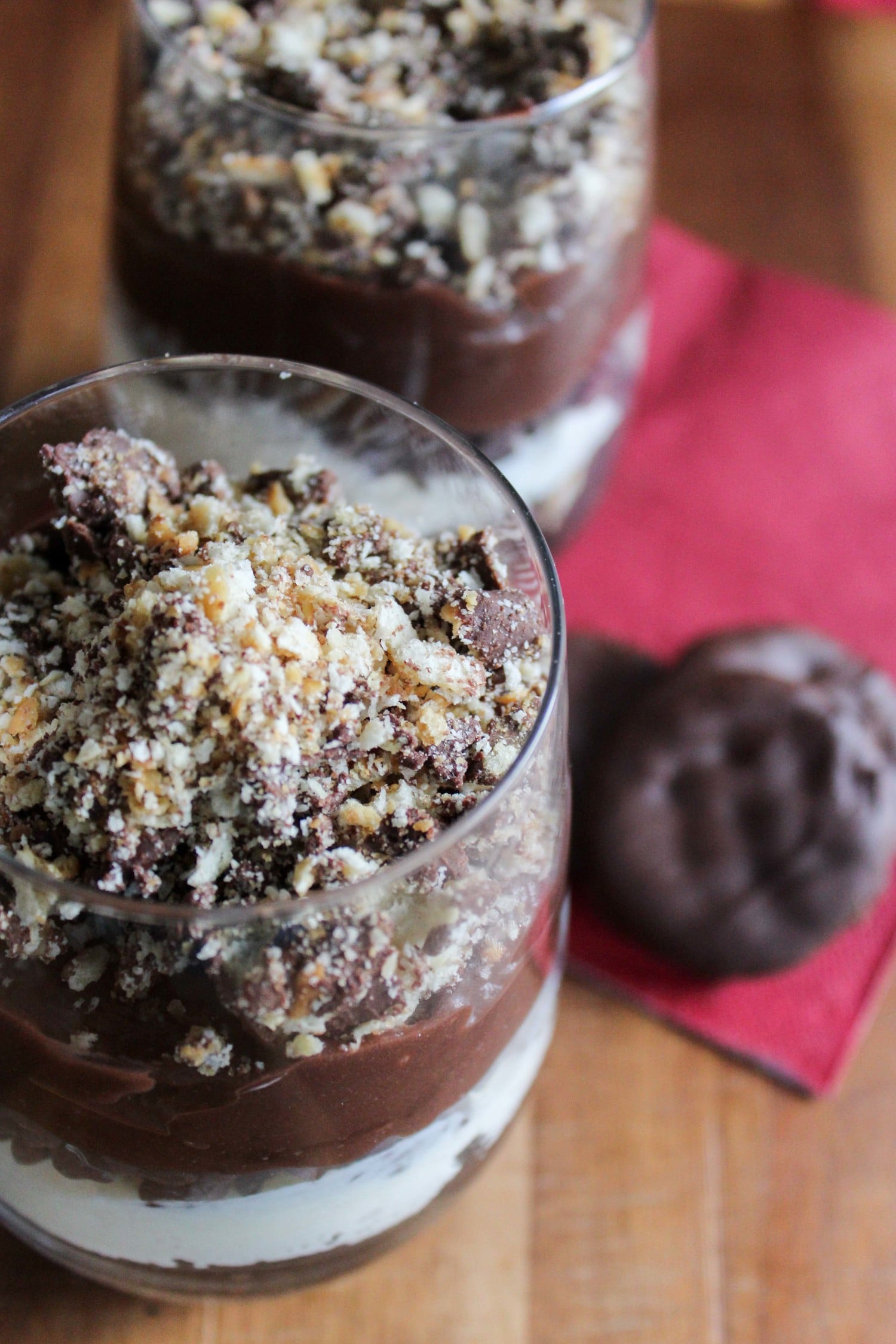 And let's not forget about the baking. I've got 2 batches of cookie dough frozen at the moment and plan on making many many more (get pumped, those are coming soon!). Fair warning the majority of our posts this month will consist of cookies (and more cookies), cakes, and all sorts of other baked goods (or not baked goods in this case!).
Yep, you read that right. This giant cup of chocolatey goodness is as easy as it is delicious.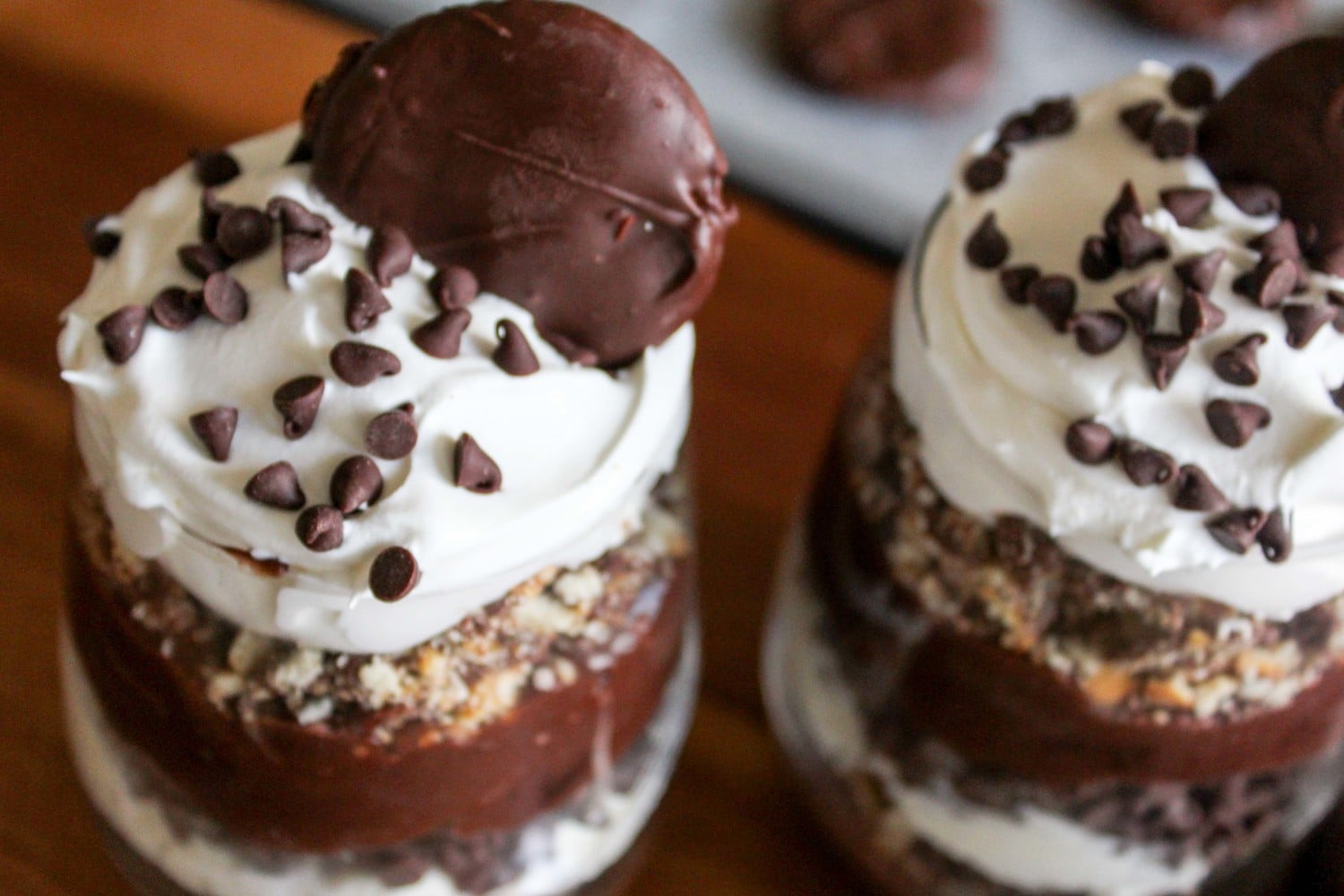 It's got four divine layers:
Smooth and creamy chocolate pudding
Light and airy cheesecake
chocolate chips
Each layer separately takes about 5 minutes to make on their own. Then you layer them until the cup or shooter is filled and you have an insanely good dessert that's perfect for the holidays.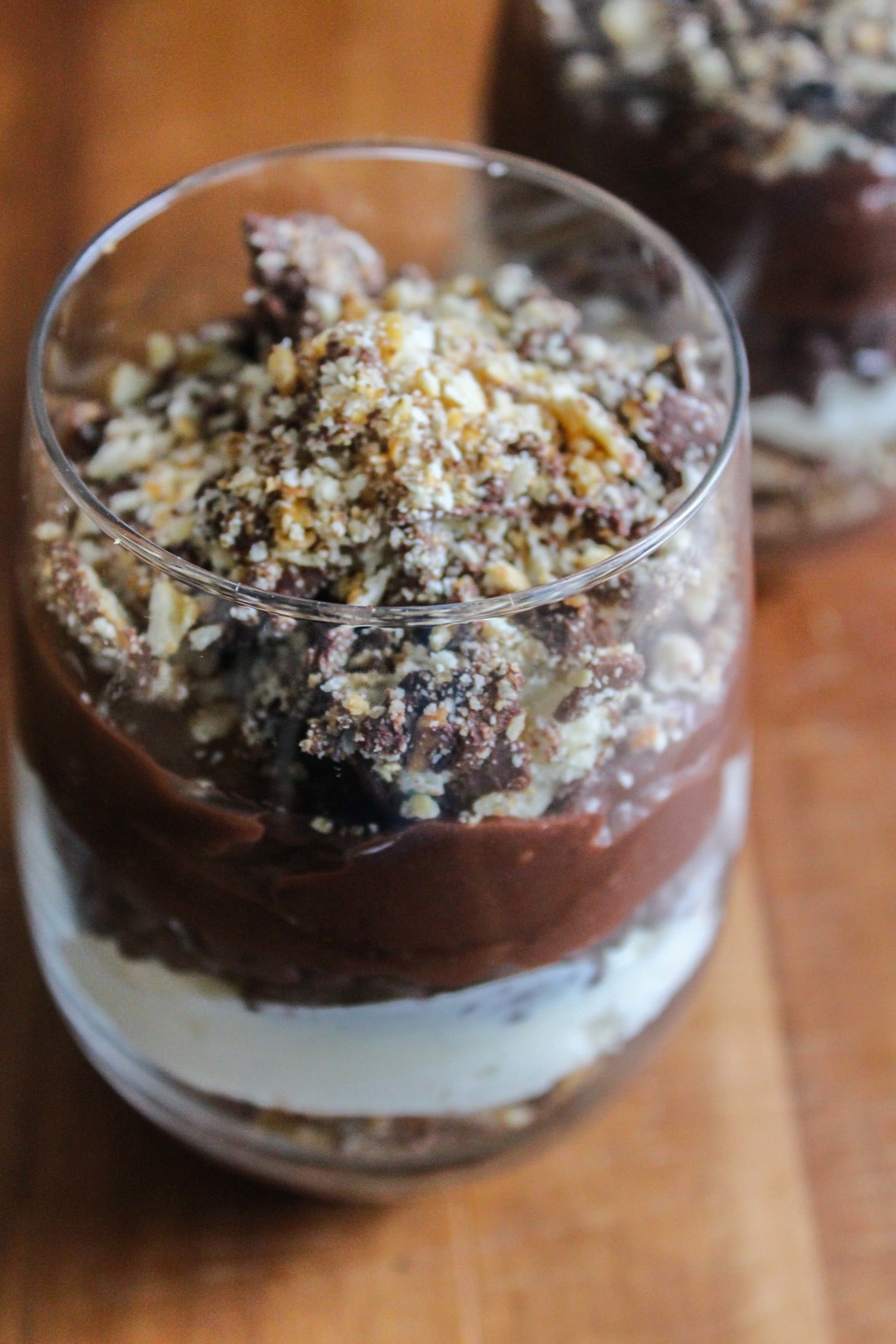 There are so many amazing things going on. When you dip your spoon in to the bottom you pull it out with a little bit of every piece of the desert and it creates the perfect bite. The chocolate flavor from the pudding, the sweet and tangy from the cheesecake, and slight crunch from the chocolate chips and then the best part: the sweet, salty and minty crunch of the thin mints.
There flavors all work so well together and the texture and slight hint of salt along with the peppermint makes this irresistible.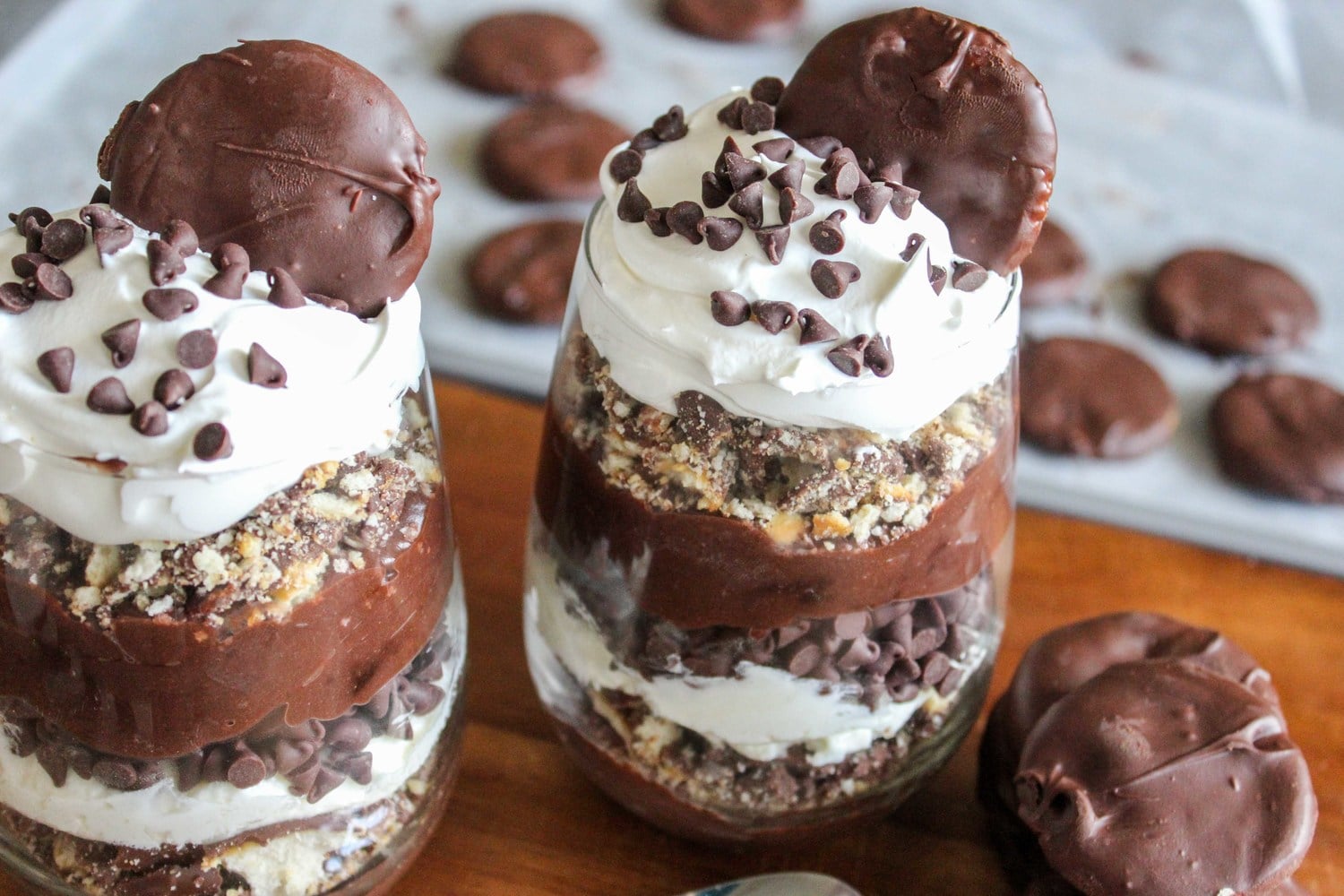 When I was testing this recipe I took it over to my cousins for her to give it a taste test. She took one bite and decided to ditch her dinner plans and ate the whole giant cup in one sitting. I call that a success.
All you have to do is make a batch of each layer and put them in the cup. I recommend putting the pudding and the cheesecake in separate freezer bags and pipe them into the cup to keep it nice and clean!
More holiday treats: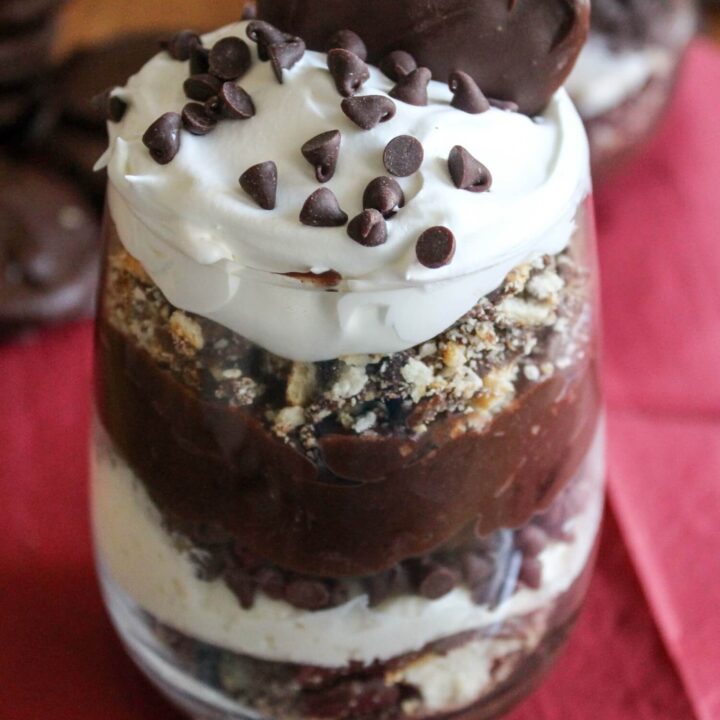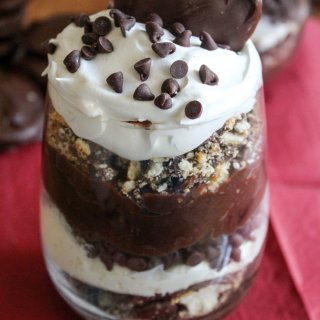 Ingredients
1/2

batch homemade thin mints:

2

sleeves Ritz Crackers

2

cups

semi-sweet chocolate chips

3/4

teaspoon

peppermint extract

For the Parfait:

1

box instant chocolate pudding

2

cups

cold milk

8

ounces

cream cheese

1/2

cup

powdered sugar

1 1/2

cups

cool whip

mini chocolate chips

as needed
Instructions
For the thin mints:

Line a large pan with parchment paper and set aside.

In a large bowl, melt the chocolate in the microwave in thirty second increments, stirring between each to make sure it doesn't burn. Add peppermint extract and stir until combined.

Dip the crackers in the chocolate mixture one at a time and set them on the prepared baking sheet.

Place in the fridge for at least 30 minutes or in the freezer for at least ten.

Serve immediately or store in an air tight container in a cool place for up to a week.

For the Parfait:

Follow the pudding mix on the box by mixing with the cold milk and letting set in fridge for 5 minutes.

In a medium bowl, use an electric mixer to whip the cream cheese. Add the powdered sugar and beat until combined. Fold in the cool whip.

Place the thin mints in a plastic freezer bag and crush them using a rolling pin.

Place the pudding mixture and the cheesecake mixture into separate freezer bags. Cut the tips of the bags to pipe.

Pipe a layer of the chocolate pudding in the bottom of a stemless wine glass, or a small shooter glass. Add a layer of crushed thin mints and then a layer of cheesecake. Sprinkle with chocolate chips. Continue layering until your glass is full.

Top with cool whip and garnish with a thin mint.