This goeey cast iron skillet cookie is made for cool weather and fall gatherings! Filled with fresh apples, oats and M&M'S® Caramel, you'll be amazed by how tasty and easy this recipe is to make.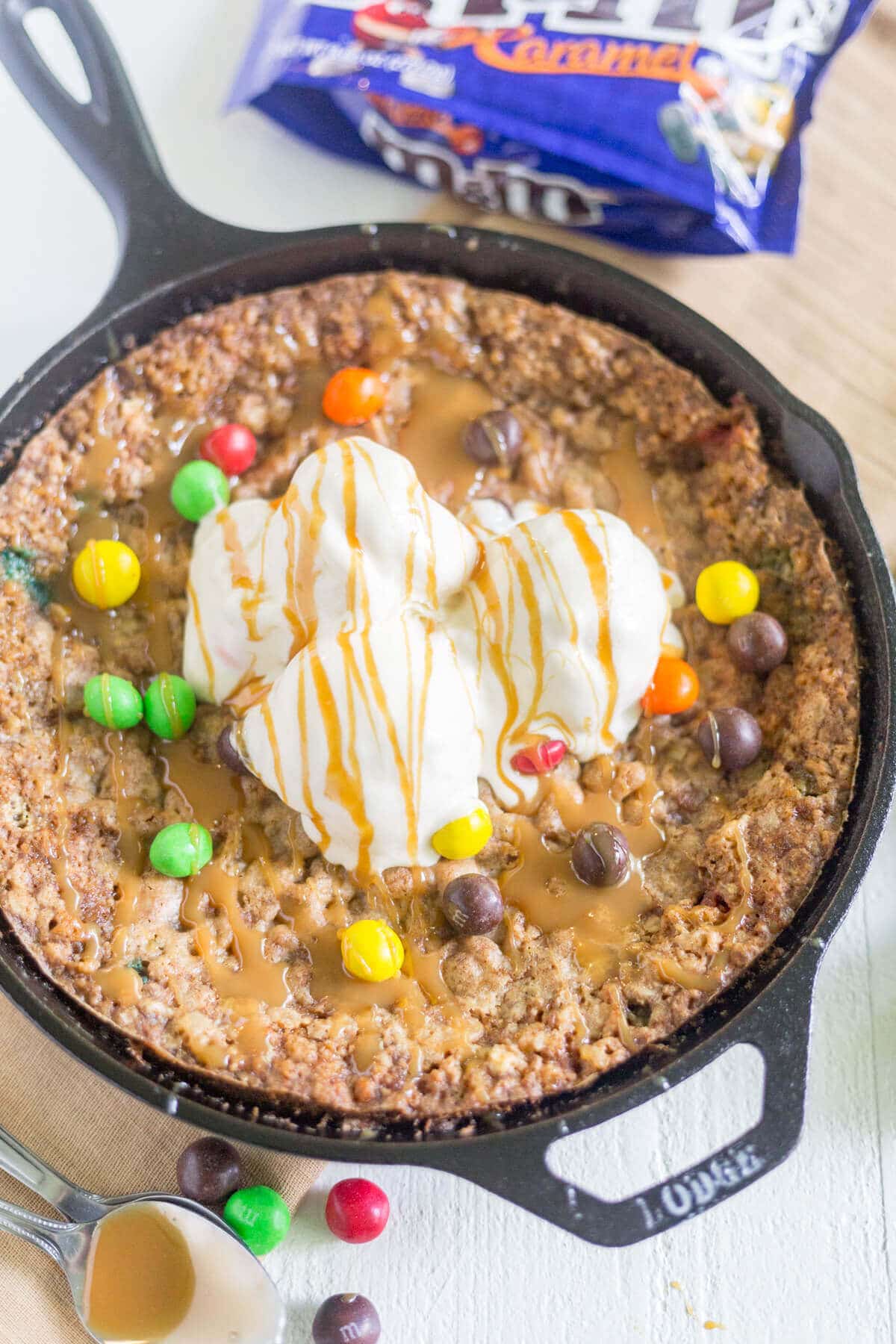 I don't know about you, but the transition from summer to fall is one of my favorite times of year. The weather is still warm, but you also get all the perks of fall like apples, pumpkin and football.
My absolute favorite ingredients for fall are caramel and apple (even more than pumkin, I know!). They make the best combo ever. And when you add ingredients like cinnamon and chocolate, game over. Oh and ice cream. Because no cast iron skillet cookie is complete without ice cream to top it off.
If you couldn't tell by my caramel apple mini cakes and apple crisp, i can't get enough of all the caramel apple things.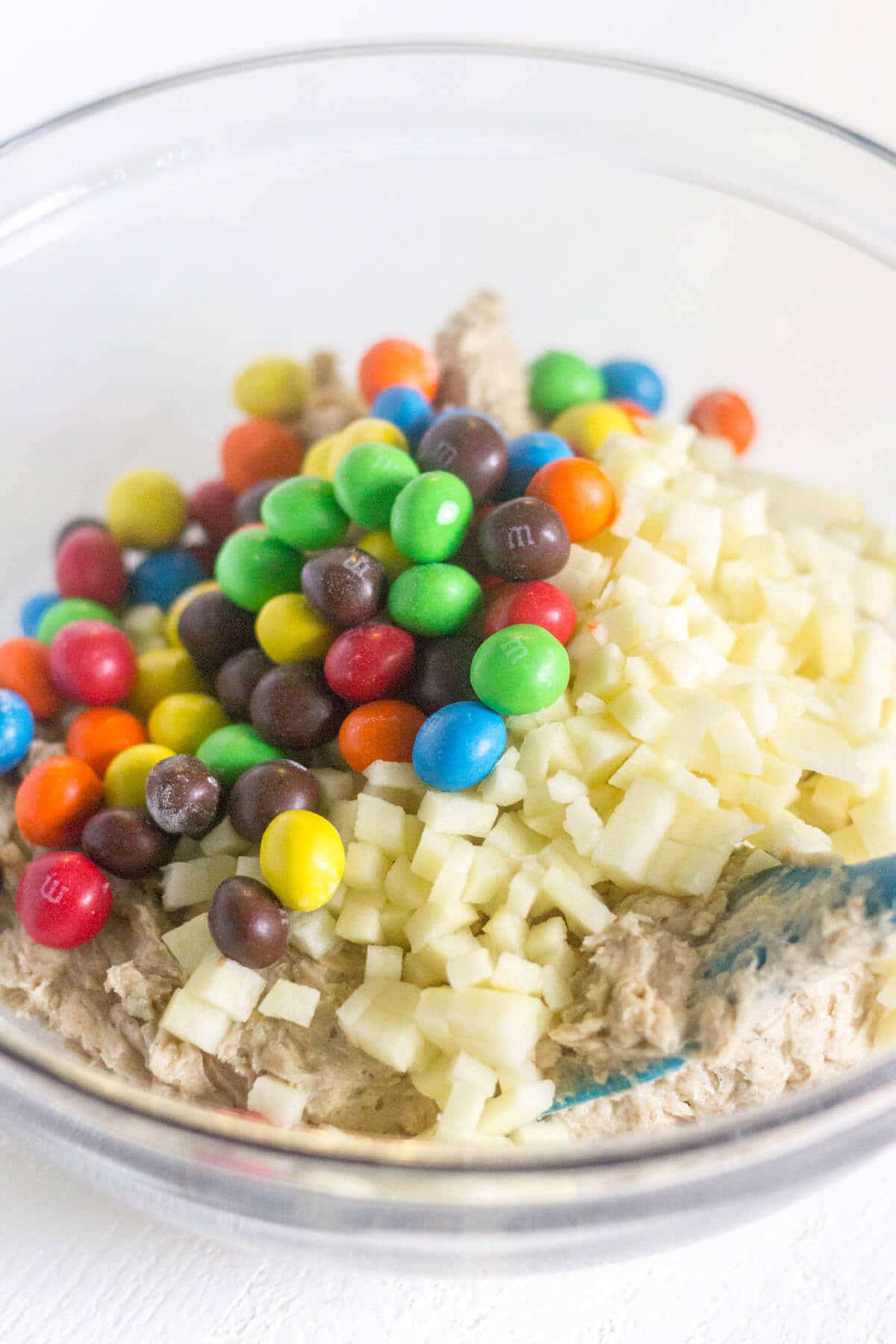 And the recipe today is no different. Except this recipe features one of my favorite candies to bake with: M&M'S® Caramel. If you're a regular reader around here you know I love M&M of all kinds (see: flourless monster cookies, soft and chewy M&M cookies and Monster Cookie Cups).
But these M&M'S® Caramel will blow your mind with their texture and flavor! This formula is newer and it's the biggest Launch in M&M'S® history. For good reason! I can't wait for you to taste them! And the best part? These candies are here to stay. Not just limited-edition, M&M'S® Caramel is here for good (praise hands emoji).
The reason I love to bake with M&M'S® Caramel is because they don't melt all over the place when you put them in the oven. The engineers figured out how to keep the chocolate at the right consistency so it wouldn't melt or collapse. In the baking world this equals better consistency and little (delicious) nuggets of M&M'S® Caramel.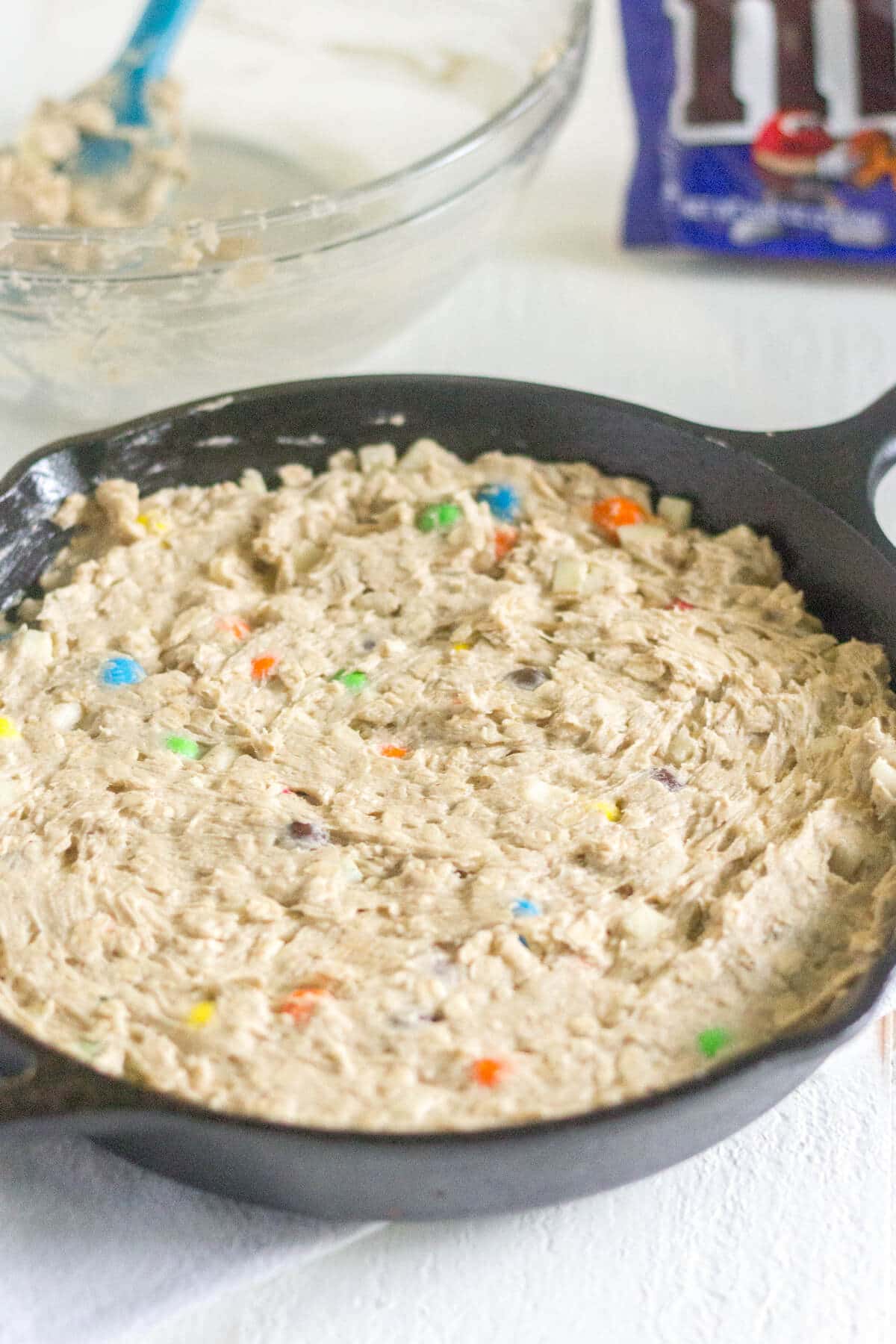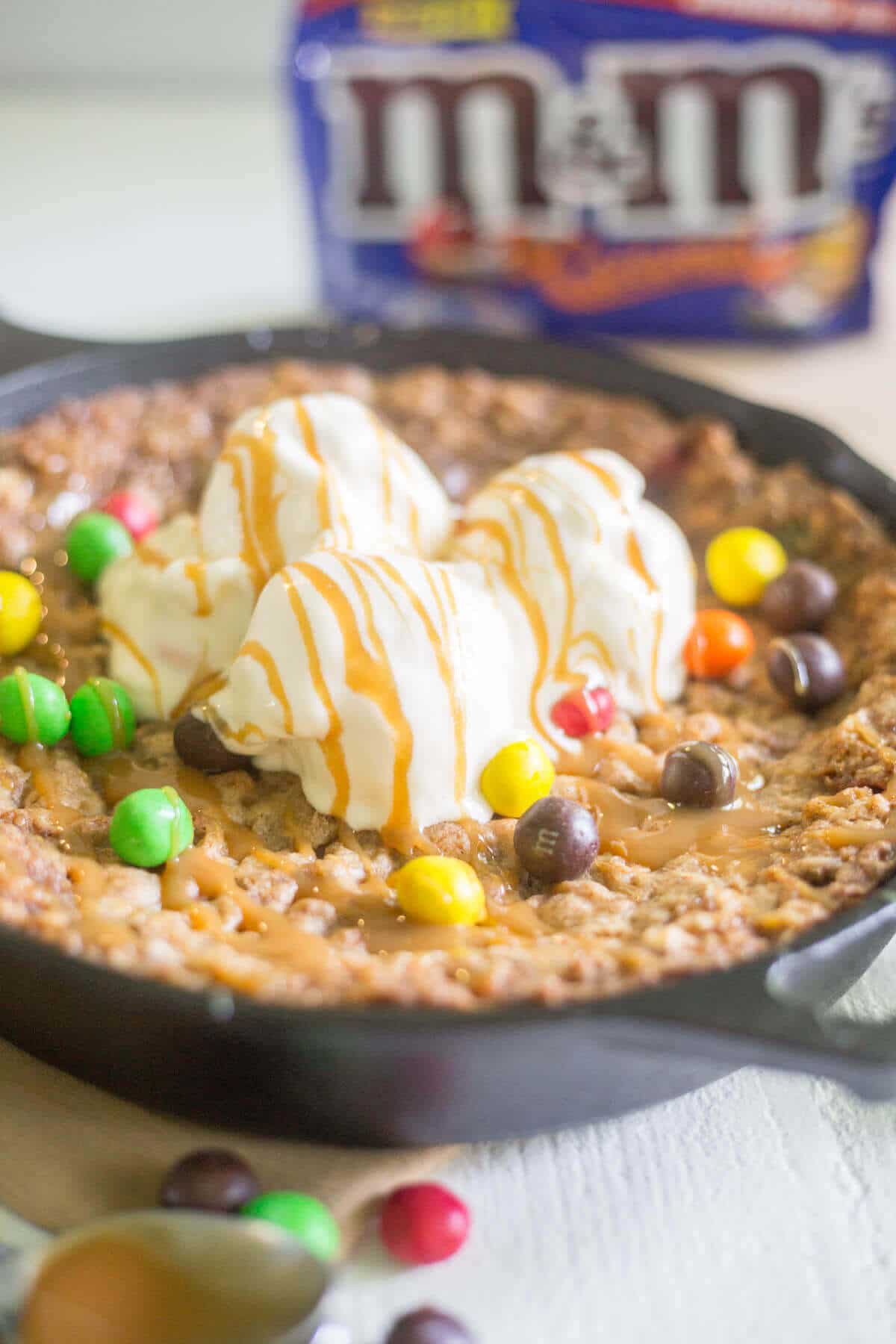 You've probably heard the buzz about them and seen them around, but just in case you haven't, I found an entire shelf full of these beauties at Walmart. They come in the blue bag so you can't miss them!
When you bite into one of these M&M'S® Caramels in this caramel apple cast iron skillet cookie you are totally going to understand what I mean. The hype is real.
The M&M'S® Caramel are the star of the show here, but cast iron skillet cookies in and of themselves are to die for.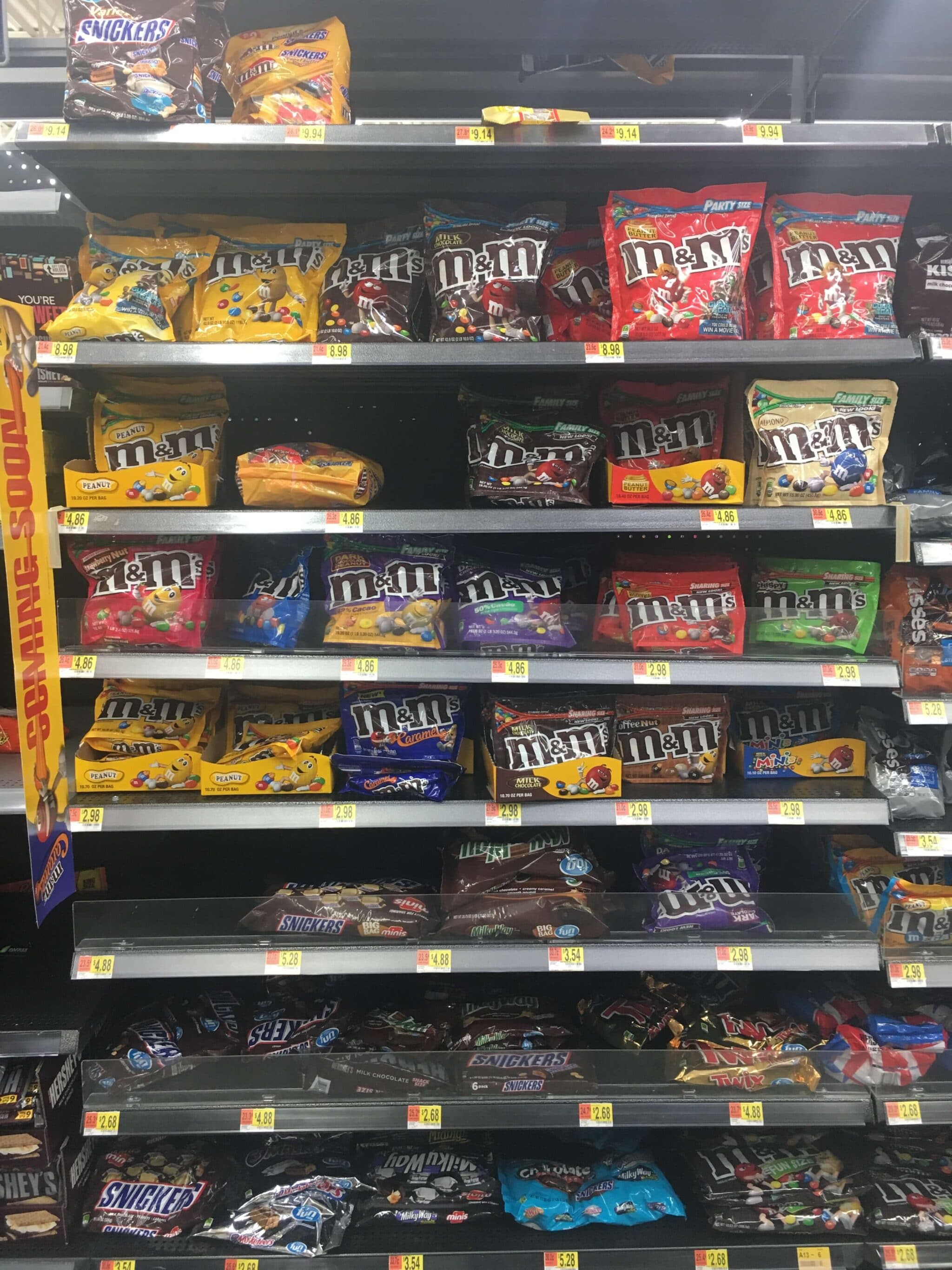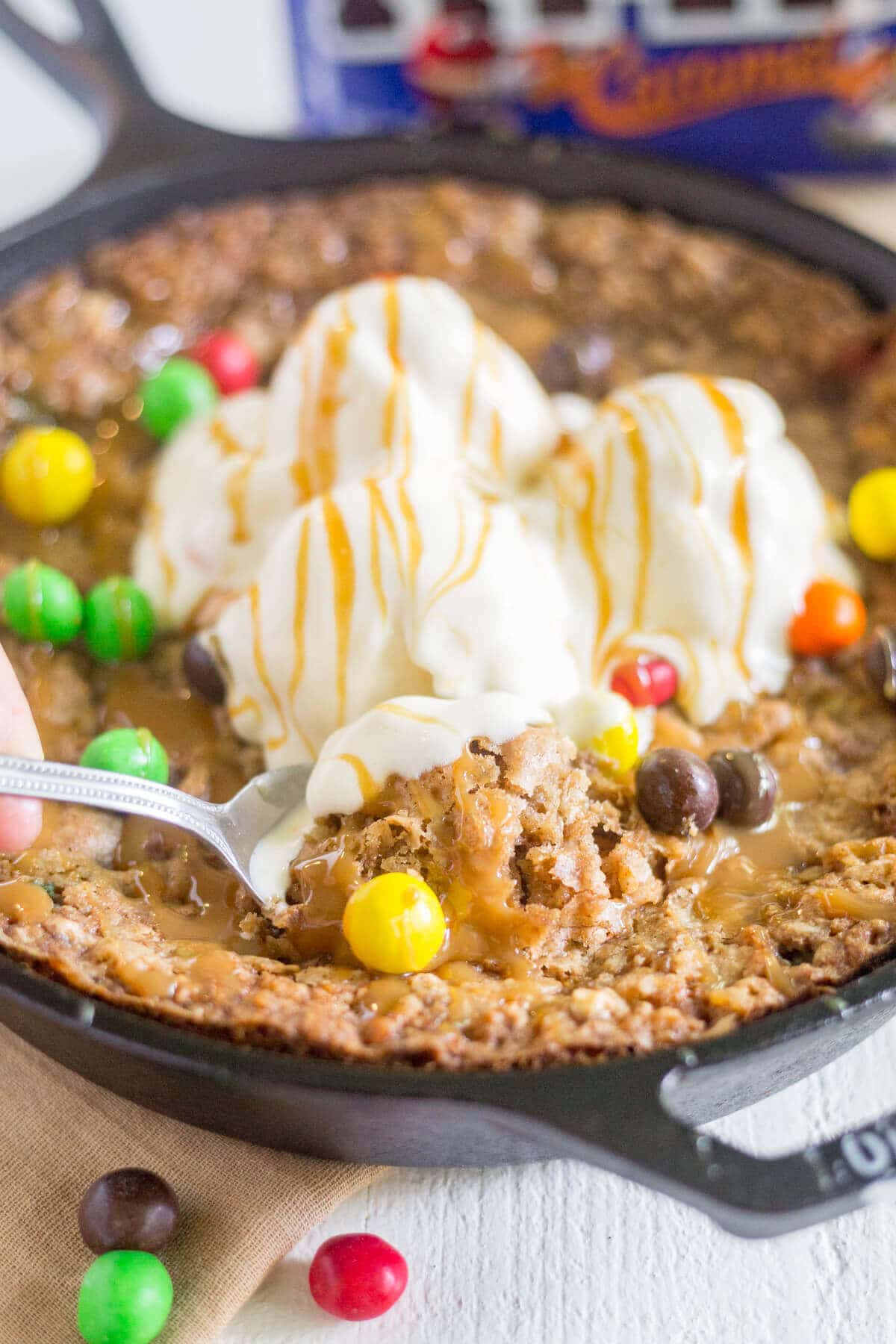 Why You Need to Make A Cast Iron Skillet Cookie:
Skillet cookies are so much easier to make than regular cookies. Because they get baked all in one (kinda like a blondie or cookie bar) you don't have to worry as much about the temperature of the butter and all the tiny details to make a stand-alone cookie complete.
Skillet cookies feed a crowd. I love to add ice cream right to the top and give everyone a spoon to dig in together.
Skillet cookies look super impressive. The cast iron skillet adds a rustic and unique element to baking without any hassle.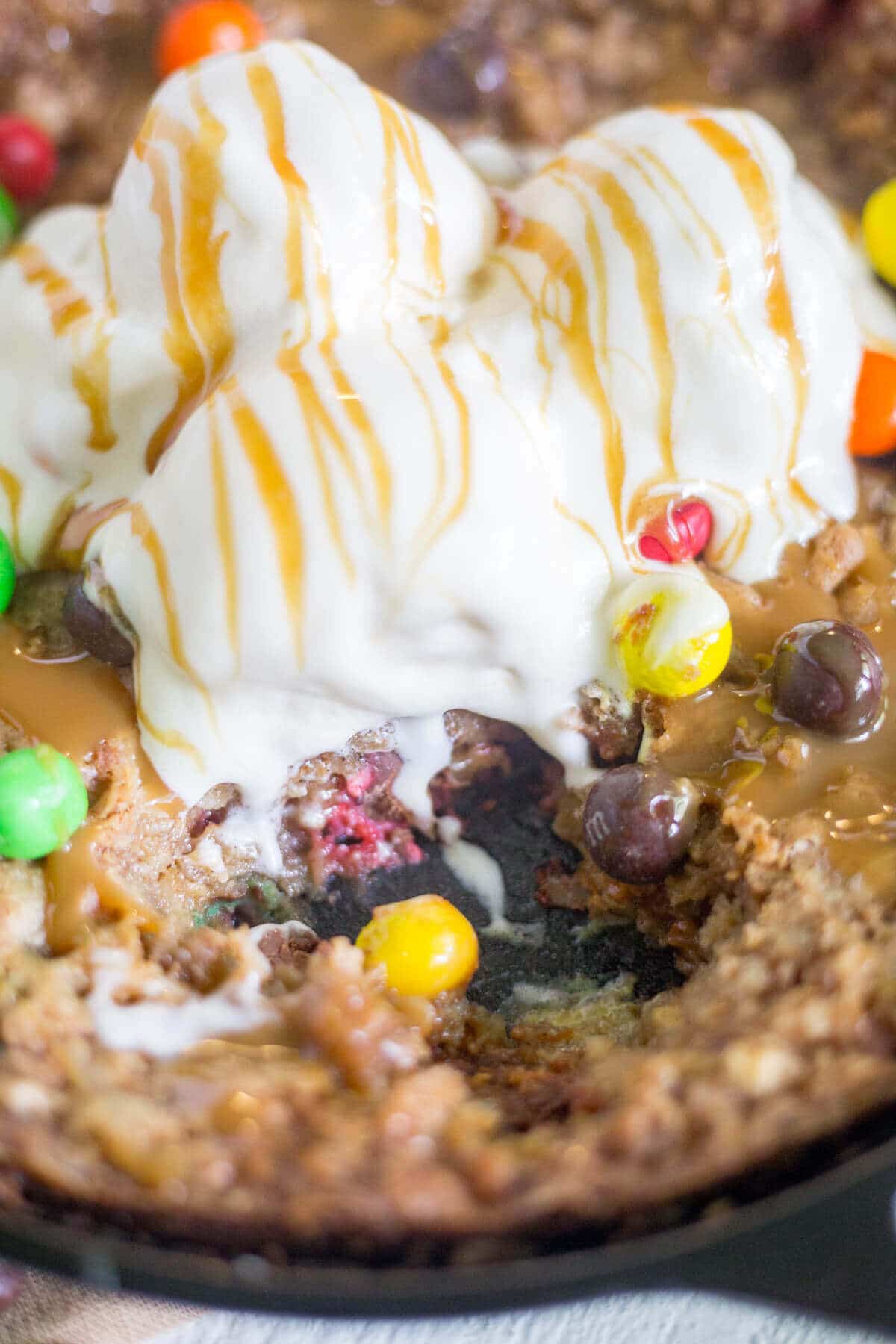 This cast iron skillet cookie in particular is one of my favorites. It's a first of it's kind on WMM for good reason. The chopped apples, cinnamon and caramel from the M&M'S® Caramel will get everyone in the mood for fall.
More recipes: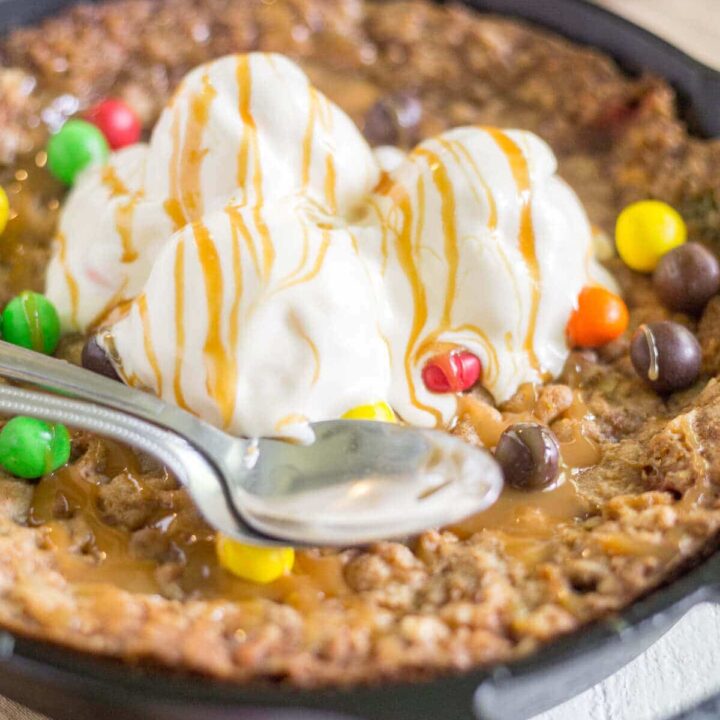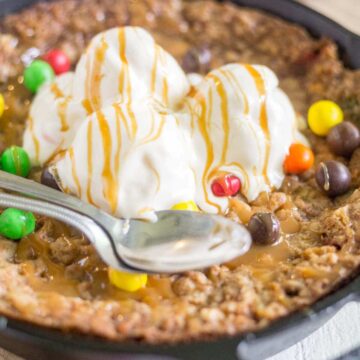 Ingredients
1

cup

2 sticks unsalted butter, softened to room temperature

½

cup

granulated sugar

1

cup

packed light brown sugar

dark brown works too

2

large eggs

2

teaspoons

vanilla extract

2

cups

all-purpose flour

spooned and leveled

1

cup

old fashioned whole-rolled oats

1

teaspoon

cornstarch

1

teaspoon

baking soda

1

teaspoon

cinnamon

½

teaspoon

salt

½

cup

finely diced apple

about ½ large apple

2

cups

M&M'S® Caramel
Instructions
Preheat oven to 325°F. Lightly grease your oven-safe skillet and set aside.

In a large bowl using a hand-held mixer or stand mixer fitted with a paddle attachment, beat the butter for 1-2 minutes on medium-high speed until smooth and creamy. Add the granulated sugar and brown sugar and beat on medium high speed until fluffy and light in color, about 2-3 more minutes. Beat in eggs and vanilla on high speed.

In a separate medium bowl, whisk the flour, oats, cornstarch, baking soda, cinnamon and salt together until combined. Slowly mix the dry ingredients into the wet ingredients on low speed until combined. The cookie dough will be thick, this is what you want. Add the chopped apples and M&M'S® Caramels and mix with a wooden or rubber spatula

Use a rubber spatula or wooden spoon to spread the cookie dough evenly into prepared skillet. Bake for 30-35 minutes or until puffed, browned on the sides, and lightly browned on top. Check half way through and cover gently with aluminum foil if over-browning. Allow the cookie to cool slightly in the pan set on a wire rack for 5-10 minutes.

Serve with ice cream and caramel sauce if desired.

Store and cover skillet cookie in the refrigerator for up to 5 days.