These homemade buckeye candy apples are coated in a sweet peanut butter layer and then hand-dipped in chocolate and sprinkled with Reese's.
Have you ever tried to bite into a candy apple? It's not humanly possible. You're destined to lose a tooth (or 10).
Which is why I decided to make my own version that's easy on the teeth and the taste buds! My dad is the inspiration behind this recipe. He asked me if I could make a peanut butter apple. I had absolutely no idea so I gave it a shot.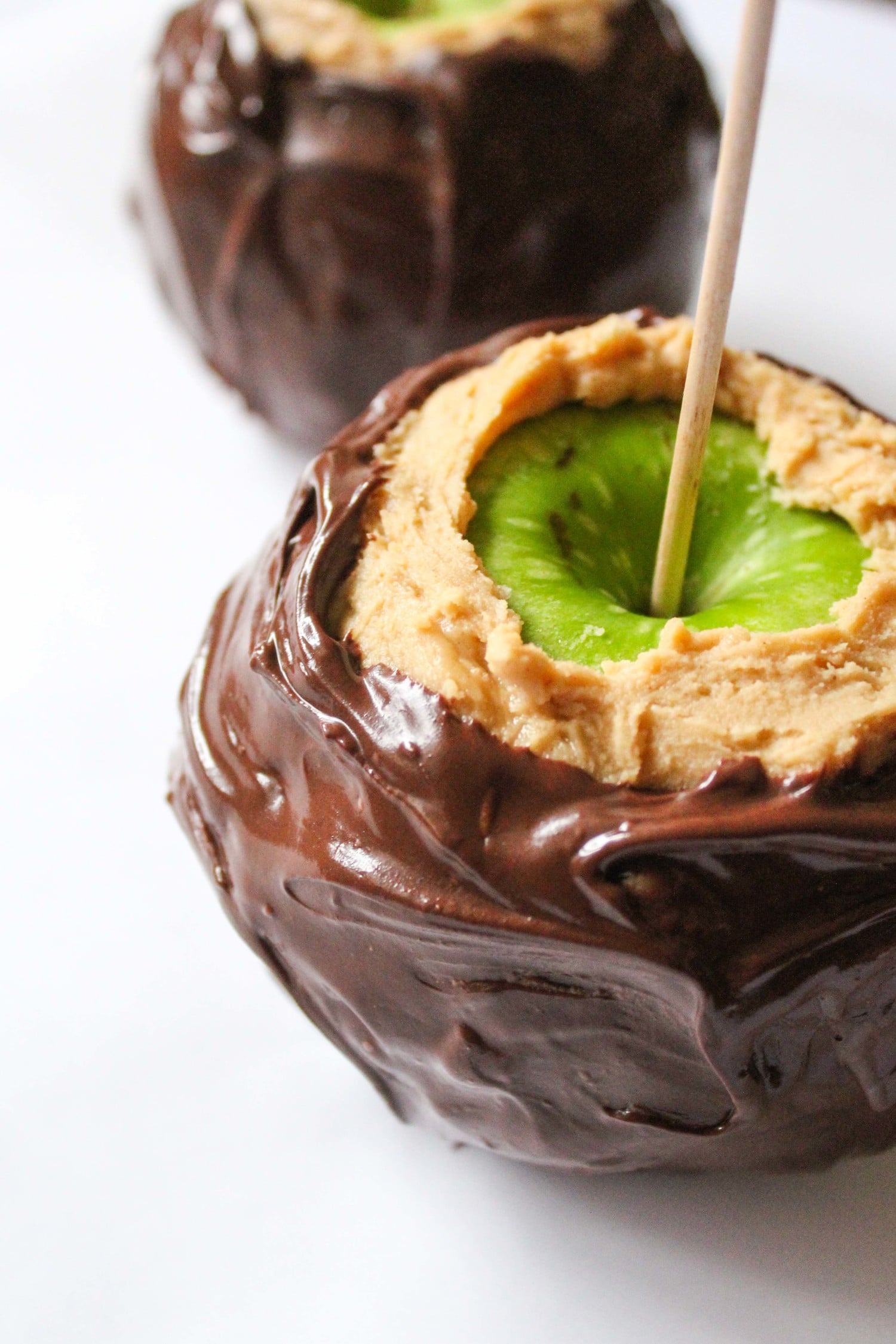 It was perfect timing because there was a OSU Buckeyes game that weekend and it's super festive for that particular occasion. We made our Buckeye Dip for a recent game and it was a huge hit.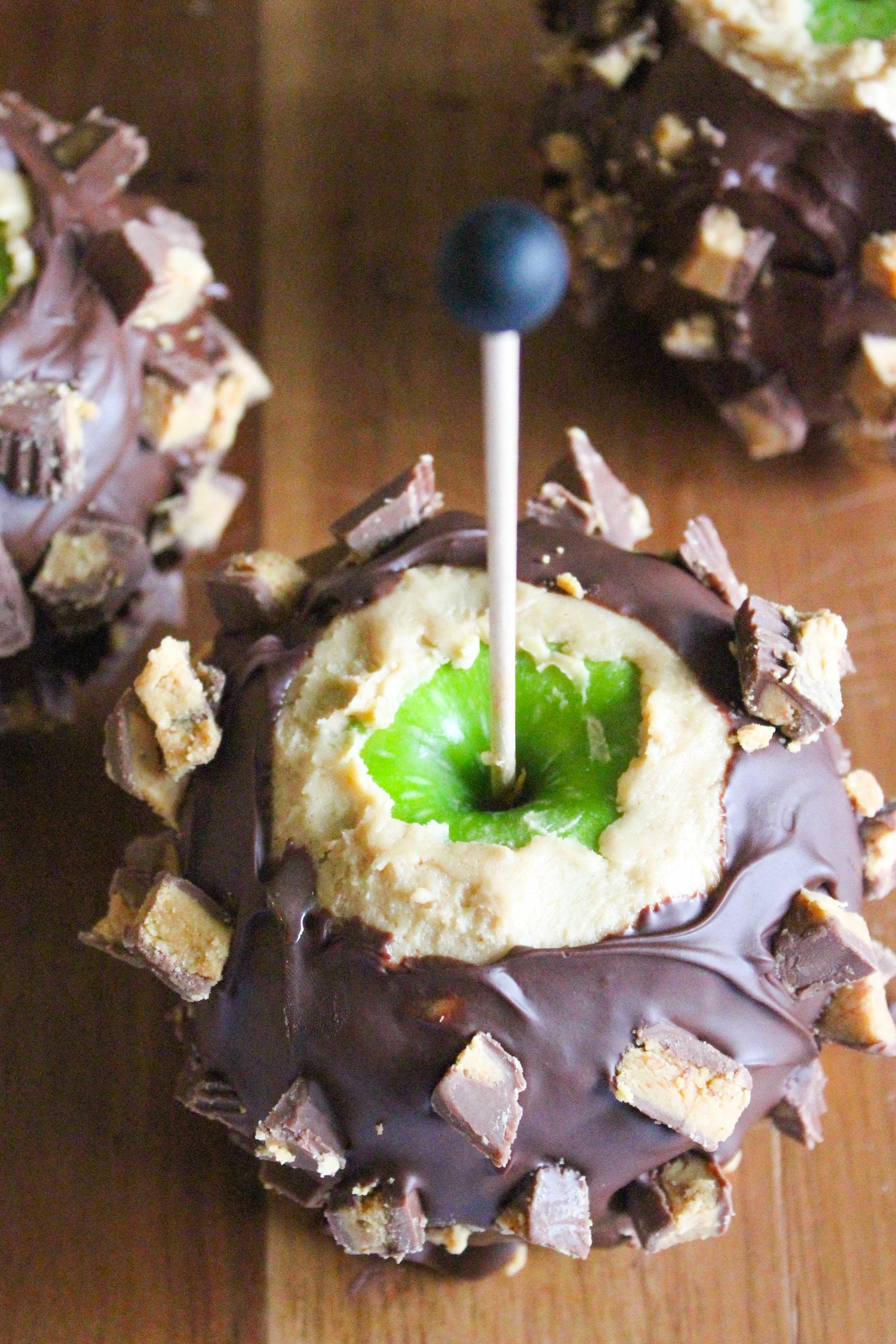 When I was testing this recipe I had NO clue how good the end result would be. I surprised myself, actually. I also had no idea if it would work because I didn't know if I could get the peanut butter to stick to the apple.
I coated them in chocolate, sprinkled Reese's and then cut them up into personal slices. I packed them up and took them to a friend's house for a cookout. Before I entered the door a friend opened the container and ate one. Let's just say they didn't even last till kick off.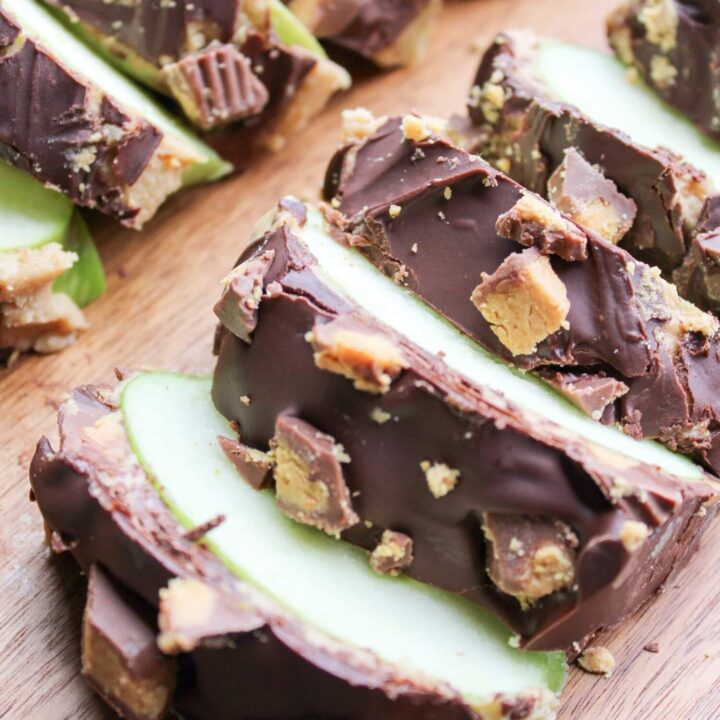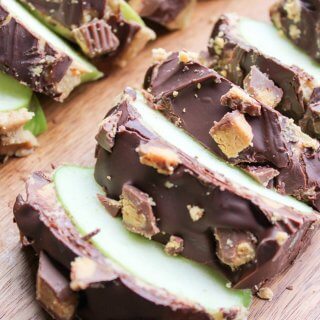 Ingredients
3

large granny smit apples

1 ½

cups

creamy peanut butter

½

unsalted butter

softened

1

teaspoon

vanilla extract

3

cups

powdered sugar

1 ½

cups

semi-sweet chocolate chips

9

Reese Peanut Butter Cups
Instructions
In a medium mixing bowl, beat the peanut butter, softned butter and vanilla extract with an electric mixer. Add the powdered sugar and mix until combined. Place in the fridge for 30 minutes.

Wash and thoroughly dry the apples. Apples often come with a waxy coating, which will prevent the peanut butter from sticking to the surface. To remove the wax, simply boil 6 cups water with 1 tablespoon white vinegar. Quickly dip the apples in the boiling mixture for 5 seconds then thoroughly dry them.

Insert the lollipop sticks or popsicle sticks so that they are firmly positioned in the apples. Set the apples aside on a cookie sheet lined with wax paper.

When the peanut butter mixture is cool, take one third of the mixture and mold it around the apples. Place on the prepared baking sheet and put back in the fridge for approximately 20 minutes.

Cut up all of the Reese's cups into small pieces.

In a medium bowl, melt the chocolate chips in the microwave in 30 second increments to ensure it doesn't burn. Once melted, dip the apples with coat with the chocolate layer. While still warm, sprinkle the apples with the Reese's cups and push them in to make sure they stick.

Place back on the baking sheet. Repeat for all of the apples and place back in the fridge for at least 30 minutes or in the freezer for 15 minutes.

Pull out the lollipop sticks and cut the apples into wedge slices. Serve immediately.