Buttery and sweet, these are the best sugar cookies out there! There is no better classic Christmas cookie than the famous sugar cookie and this recipe takes the cake (cookie) in my book.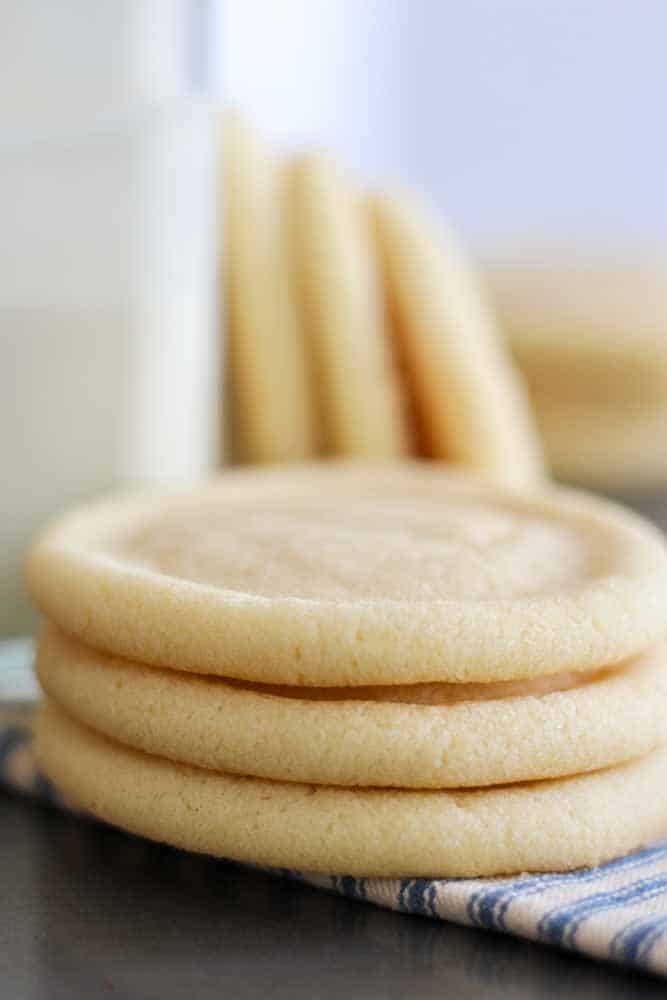 Here we are! DAY 2 of an entire week where I'm sharing a new cookie recipe every day. Yesterday I kicked it off with Giant Ginger Cookies and by giant I mean each cookie is 1/4 cup of dough. They're chewy and festive and I highly recommend them.
And featuring the Tuesday recipe this week are the best sugar cookies. I don't say these things lightly. It takes so much deliciousness to classify it as "the best" in my life. But when it comes to sugar cookies I've tasted in my 26 years this one can't be beat. Even the grocery store ones. You know which ones I'm talking about. Though I have no shame because those things are the bomb.
I don't turn down any cookie. All are welcome in my belly.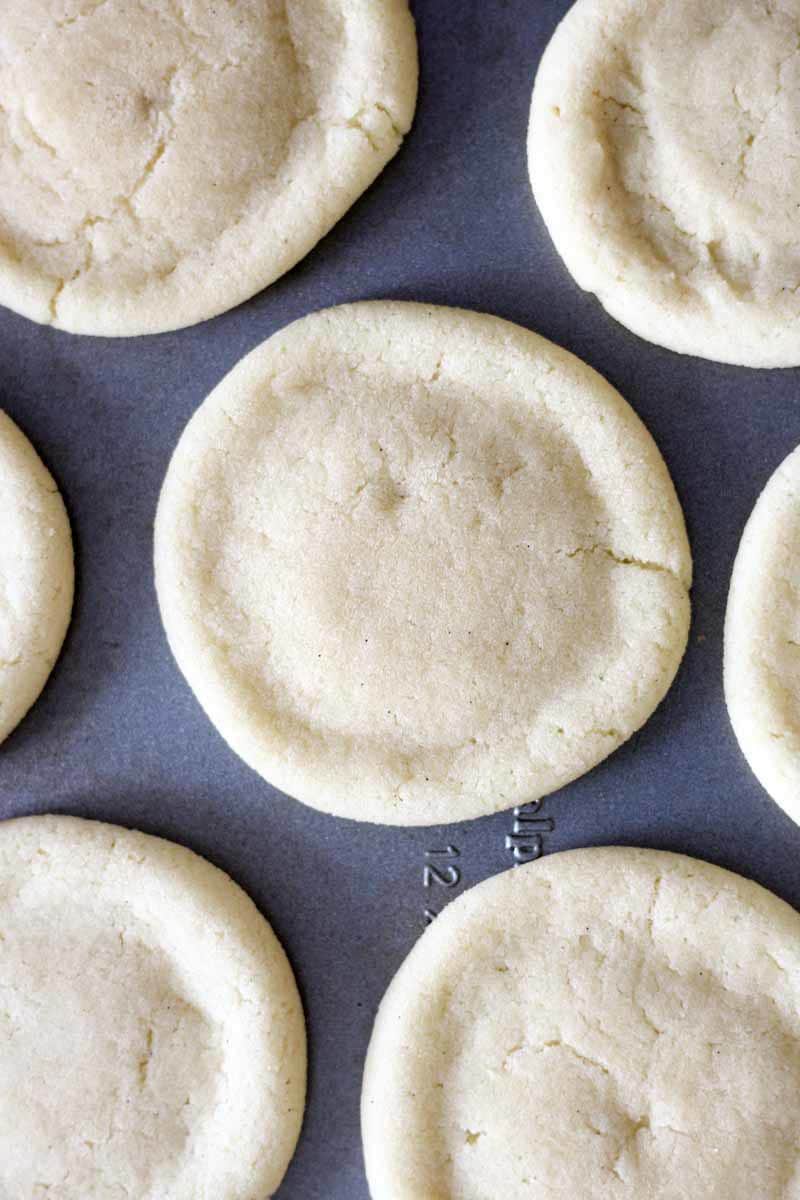 I made these cookies a couple of weeks ago and froze the dough. It's perfect for that! Make dough, freeze dough and wha-la, fresh baked cookies at your fingertips! It's really the only way to do Christmas cookies. I did it for the first time last year and it changed my life.
I froze these because Zach and I are starting a new tradition with all of our college friends this year! We're having a giant Christmas party and our goal is to squeeze in as many Christmas-themed activities as possible. Christmas lights, movie watching, hot chocolate drinking and a COOKIE DECORATING CONTEST.
And there's no cookie decorating contest without sugar cookies. Hence the giant batch in my freezer. Here's how it works: each team gets 3 baked sugar cookies with a side of frosting and decorative sprinkles and candies. With 5 minutes on the clock, each team must decorate all three cookies and the judges will score each one on a scale of 1-5. The team with the combined highest point total wins.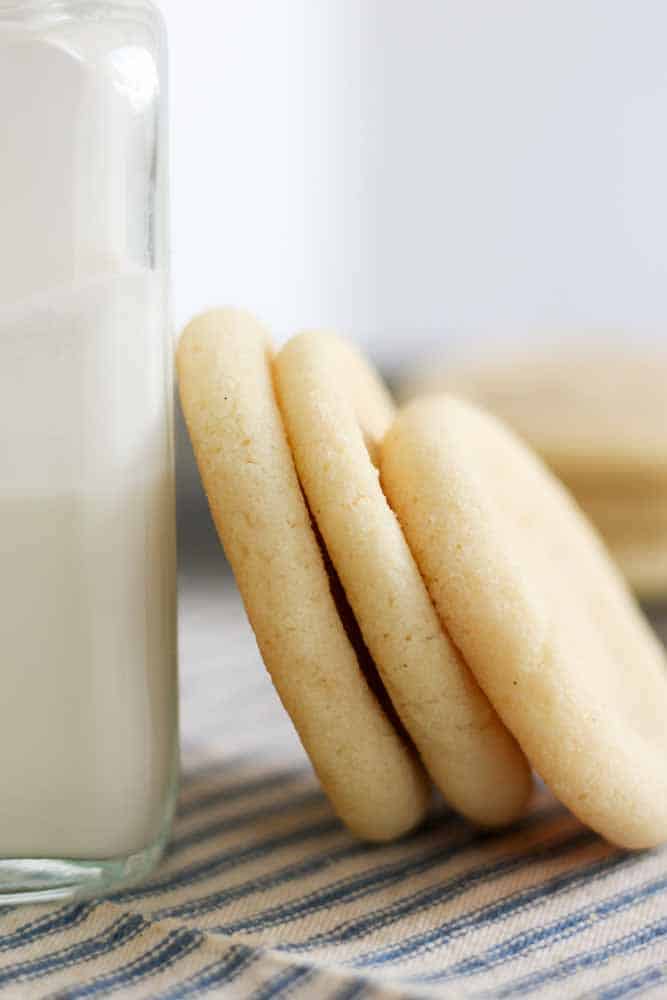 No one actually knows those rules yet, I actually just made them up. But they seem perfectly good to me. So stay tuned on how it turns out!
I plan on baking all of the cookies for the contest the day before the party so the sugar cookies are fresh baked and ready to go. Although I whipped these sugar cookies up in advance you can absolutely still make them the day you need them. In fact, they come together so easily. They only require one bowl and no chilling necessary. That qualifies an easy recipe if I've ever seen one.
Once they're baked you can even leave them plane and eat them with milk or hot chocolate. Or roll the dough out and shape them in to your favorite cut outs. That's my plan for my party!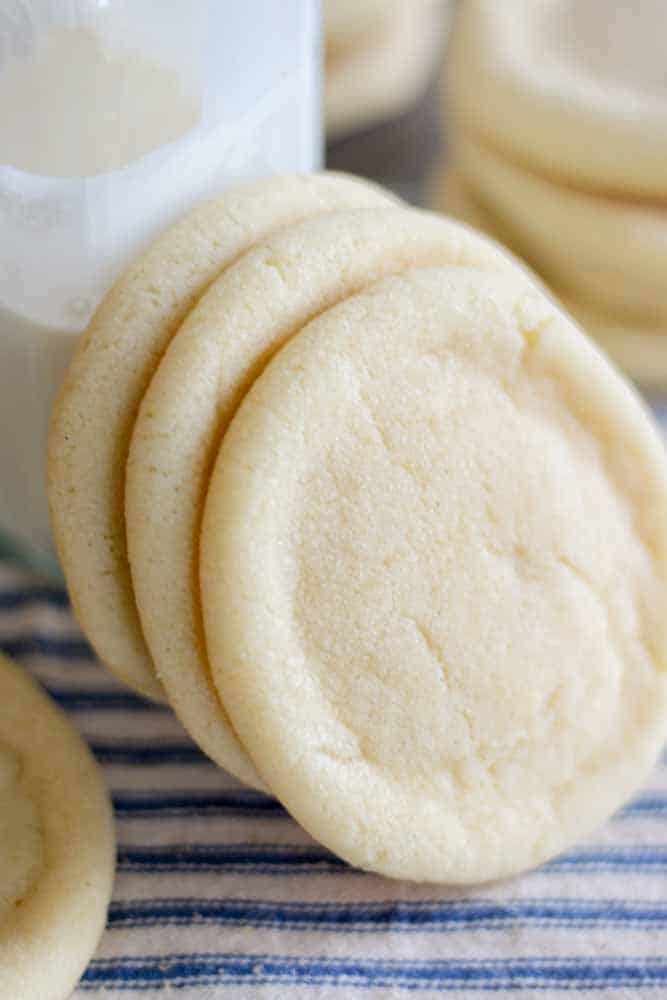 Thanks for sticking with me in my week of cookies extravaganza and stay tuned for party updates and don't forget to check back in tomorrow for my Triple Chocolate Cookies. If you're dying for more Christmas Recipes now visit my Christmas recipe page for all the inspo!
If you loved these cookies don't forget to give me a virtual high five by following me on Pinterest, Instagram, Twitter and liking my page on Facebook!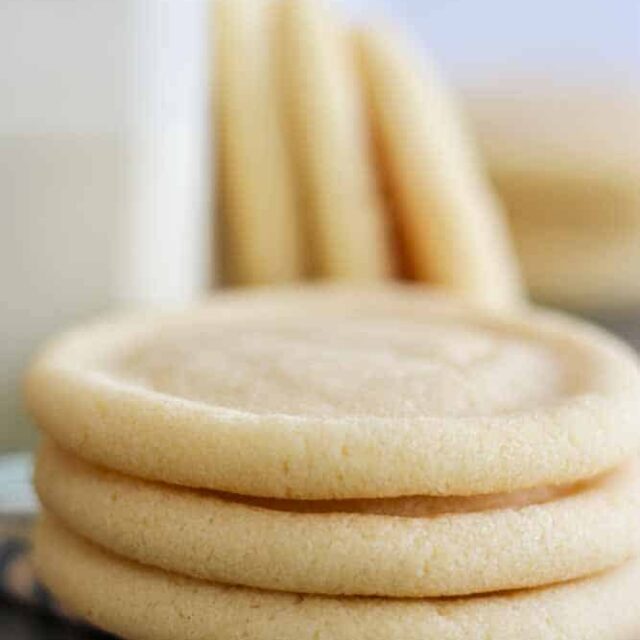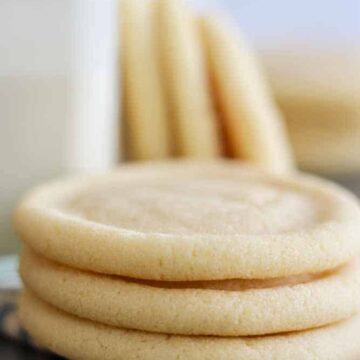 Ingredients
1/2

cup

butter

softened

1/2

cup

shortening

2

cups

granulated sugar

1

teaspoon

baking soda

1

teaspoon

cream of tartar

1/4

teaspoon

salt

3

egg yolks

room temperature

1/2

teaspoon

vanilla bean paste or vanilla extract

1 3/4

cups

all purpose flour
Instructions
Preheat oven to 300°F and line a baking sheet with parchment paper. Set aside.

In a large mixing bowl with an electric mixer or in the bowl of your stand mixer, beat the butter and shortening on medium to high speed for 30 seconds. Add the sugar, baking soda, cream of tartar and salt and beat until well-combined, about 3 minutes, scraping down the sides as you go. Beat in the egg yolks one at a time, mixing well after each addition. Add the vanilla and almond extract and beat until incorporated..

Add the flour gradually until dough is combined and starts to pull away from the edges of the bowl and stick to the mixer.

Shape dough into 1 inch balls using a heaping teaspoon of dough. At this point you can freeze the dough up to 3 months or roll our on a floured surface to make cut out shapes.

Place balls or shapes of dough onto a prepared baking sheet about 2 inches apart.

Bake for 12-14 minutes or until edges are set, being careful to not let the edges brown. Cool the cookies on the baking sheet for 2 minutes then transfer to a wire rack to cool completely.

Decorate with frosting or store in an airtight container for up to 3 days or in the freezer for up to 3 months.