Growing up I've always been known by parents and friends alike as a more adventurous eater; there weren't many things that you could put in front of me that I wouldn't try. Now that's not to say that I loved everything but I definitely wasn't picky.
Fun fact: Cucumber's were completely off limits!! GROSS, the smell would even trigger my gag reflex. And to answer all of your question, yes I like, well actually love, pickles and no they do not just taste like water!
Any way back to the point, one day at the pool I ordered pasta with Alfredo sauce topped with BBQ chicken. The food was served with an extra drizzle of BBQ sauce on top. Being a sauce lover, I was thrilled and ready to dig in.
Molly's reaction on the other hand was a bit different, but one taste of it and she was hooked. Soon enough we were eating it almost everyday after swim practice and even had some bandwagon fans that fell in love with the dish as well - one of those being my mom!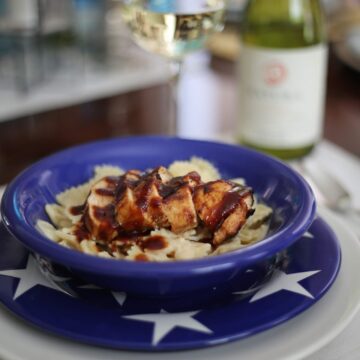 BBQ Chicken and Cauliflower Alfredo Pasta
Lighten up your pasta by making a Cauliflower Alfredo sauce. The sweet bbq chicken and Alfredo together create a comforting dinner recipe without the guilt.
Print
Pin
Rate
Ingredients
BBQ Chicken:

1

and ¼ cups

separated of your favorite BBQ sauce

2

pounds

boneless skinless chicken breasts

Cauliflower Alfredo:

2

tablespoons

butter

6-8

cloves

of garlic

minced

½

head of cauliflower florets

2-3

cups

vegetable broth

6

ounces

Parmesan cheese

salt and pepper to taste
Instructions
Trim chicken to liking and put 1 cup of BBQ into a plastic bag with the chicken. Marinade chicken until you're ready to throw it on the grill (best if overnight).

Grill the chicken breasts on each side for 6-8 minutes depending on the thickness.

While the chicken is grilling, bring two large pots of water to a boil.

In one pot, add the cauliflower florets for 7 minutes or until soft. *Remember the cauliflower will continue to cook a bit after it is drained from the water.

In the second pot, prepare 1 pound of pasta as the box denotes (we suggested Bowtie pasta but any pasta will do) and set aside.

Transfer the cauliflower to a blender or Vitamix with 1-2 cups of vegetable broth and blend. Continue to add broth until the mixture is a thick, smooth consistency.

Sautee the garlic with the butter over low heat. Cook until the garlic is soft but be careful not to burn the garlic. Once cooked add the garlic and butter along with the cheese to the cauliflower mixture and continue to blend until the cheese is thoroughly mixed.

Toss with the Cauliflower Alfredo in the prepared pasta, top with Grilled BBQ Chicken and finish with a drizzle of the remaining BBQ sauce.