Easy, convenient and healthy, this Bacon and Honey Mustard Grilled Chicken recipe from Kroger Prep+Pared will change your life in 2018. It takes 20 minutes to make from start to finish and it's filled with good-for-you ingredients for a healthy dinner.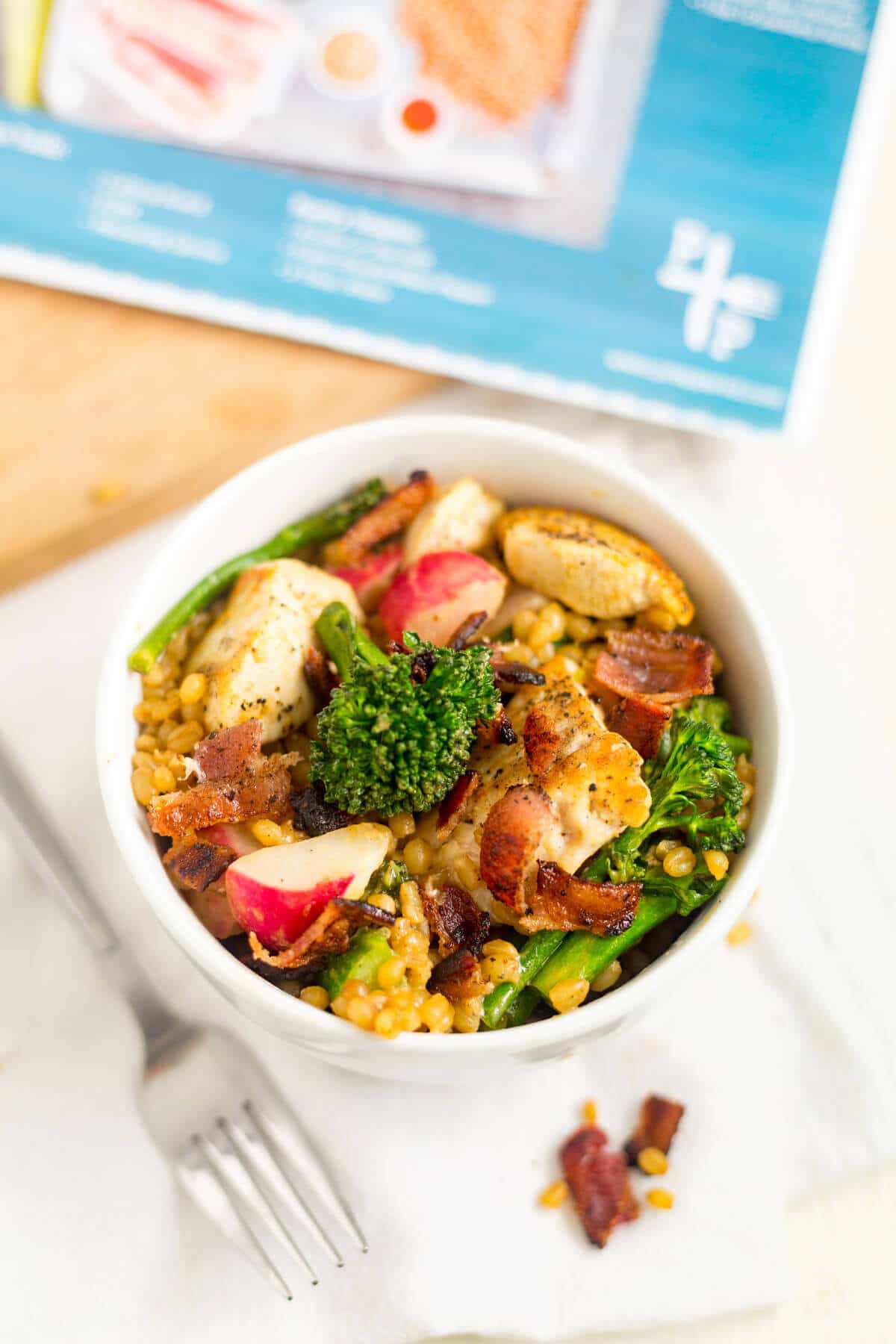 At the beginning of December I had the opportunity to go to the Kroger Prep+Pared launch party with local food bloggers to try out the new Prep+Pared Meal kits that just became available. We had the pleasure of sampling that month's meals and taking some home to make for our family.
I stuck the Prep+Pared meal kit in my fridge and continue checking things off the list. Why is convenient + healthy so tricky to come by?! When I find that combo I'm hooked.
The next day my fiance and I were swamped because I we were getting together with my cousin to celebrate Christmas and we had a meeting with our wedding venue to go over some details. Even though we were busy I really wanted a healthy dinner. I remembered the meal kit in my fridge and I was SO pumped. No leaving the house in the cold or unhealthy meal because we were rushed.
Easy and healthy is a win-win for a busy bride-to-be. And for anyone, tbh.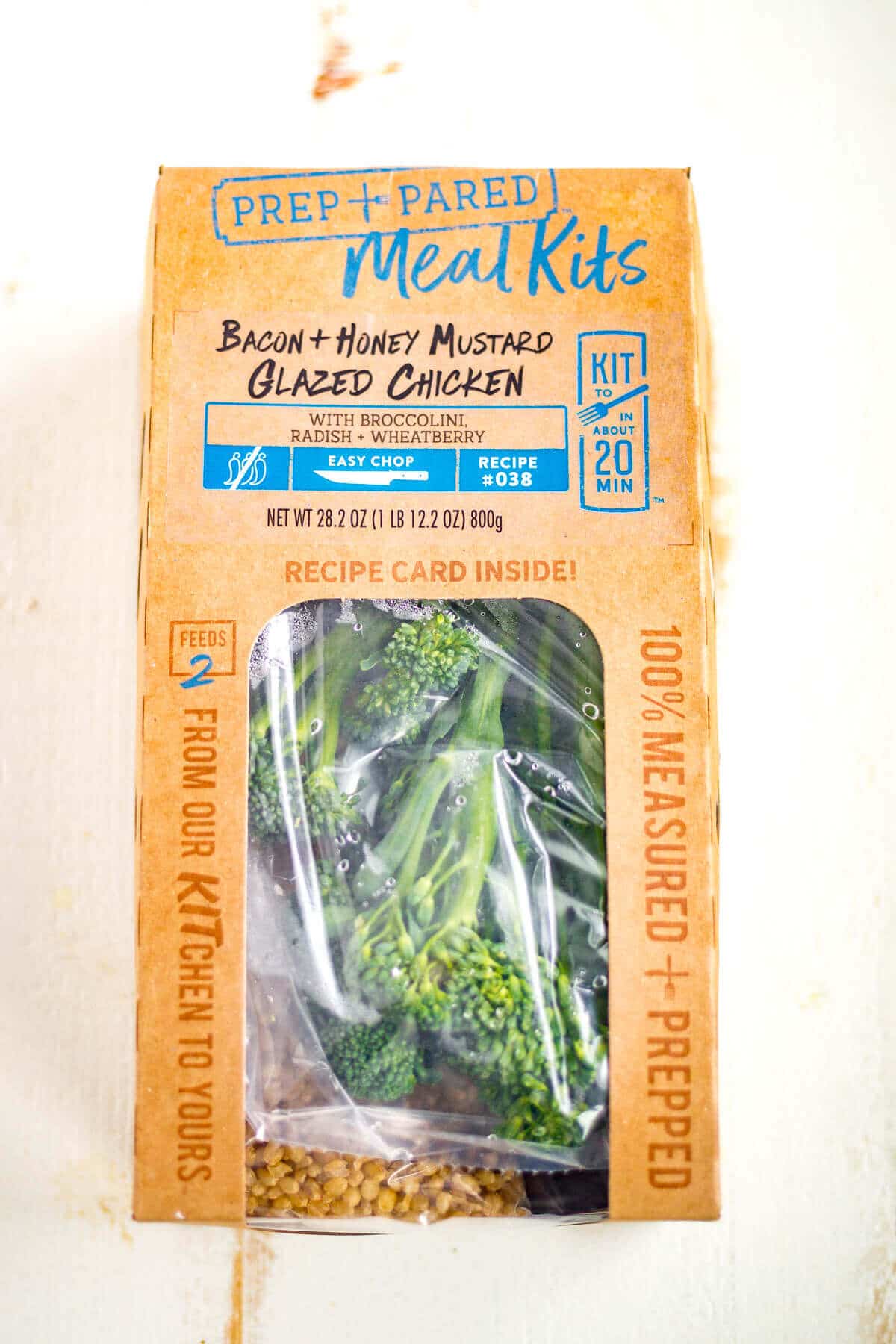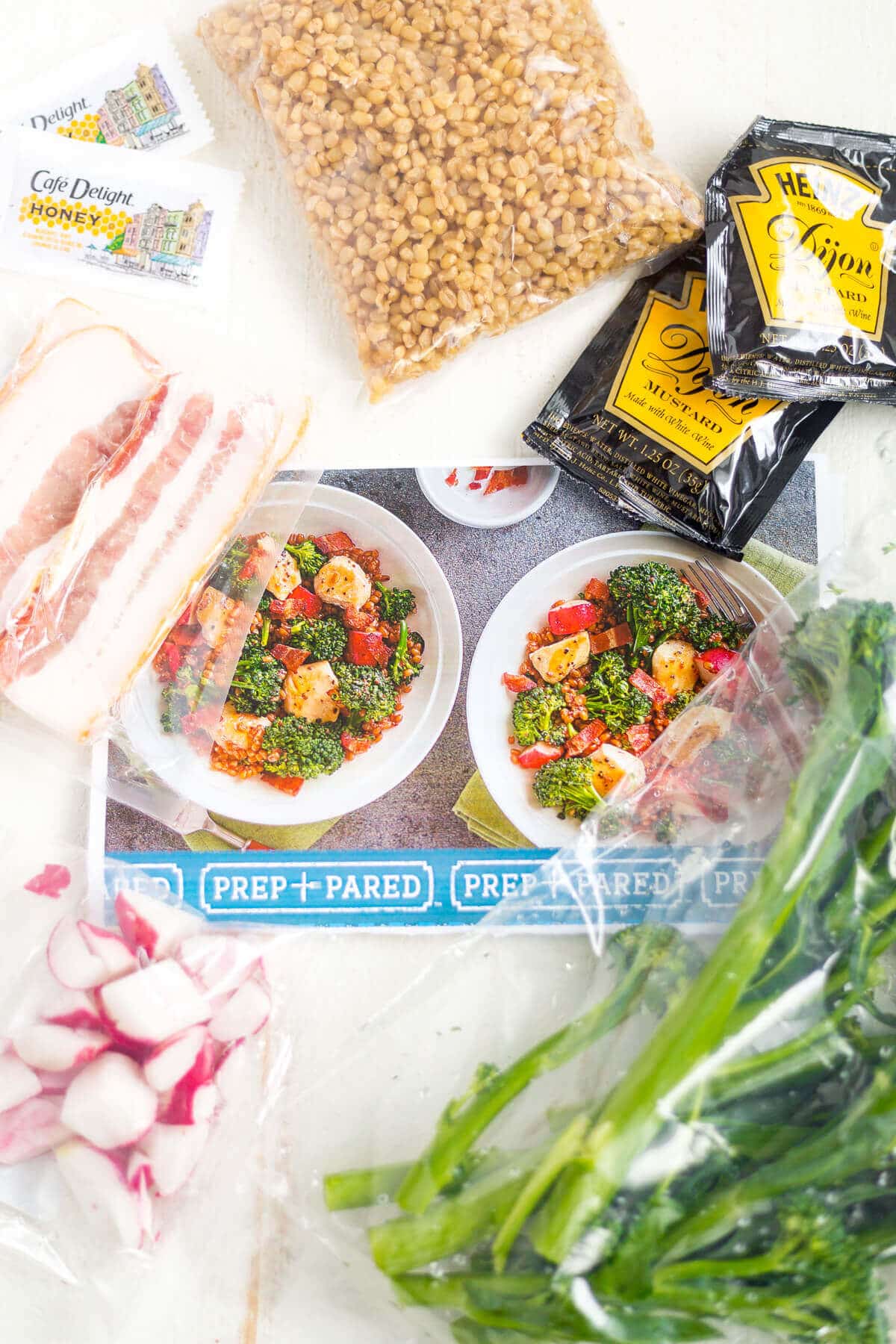 The meal kit came with the majority of the ingredients in the bags, pre-measured and ready to use. The only ingredients I needed were kitchen staples like olive oil and salt+pepper. I loved that everything was easy to dump in, but I especially loved how much cleaning it saved me.
Ya don't really think about it, but all that measuring and such adds a lot of extra utensils and dishes to be cleaned. I LOVED that part.
My fiance is a big guy, which means he's a big eater. I made this honey mustard grilled chicken and we had enough for both of us, with a little extra to spare.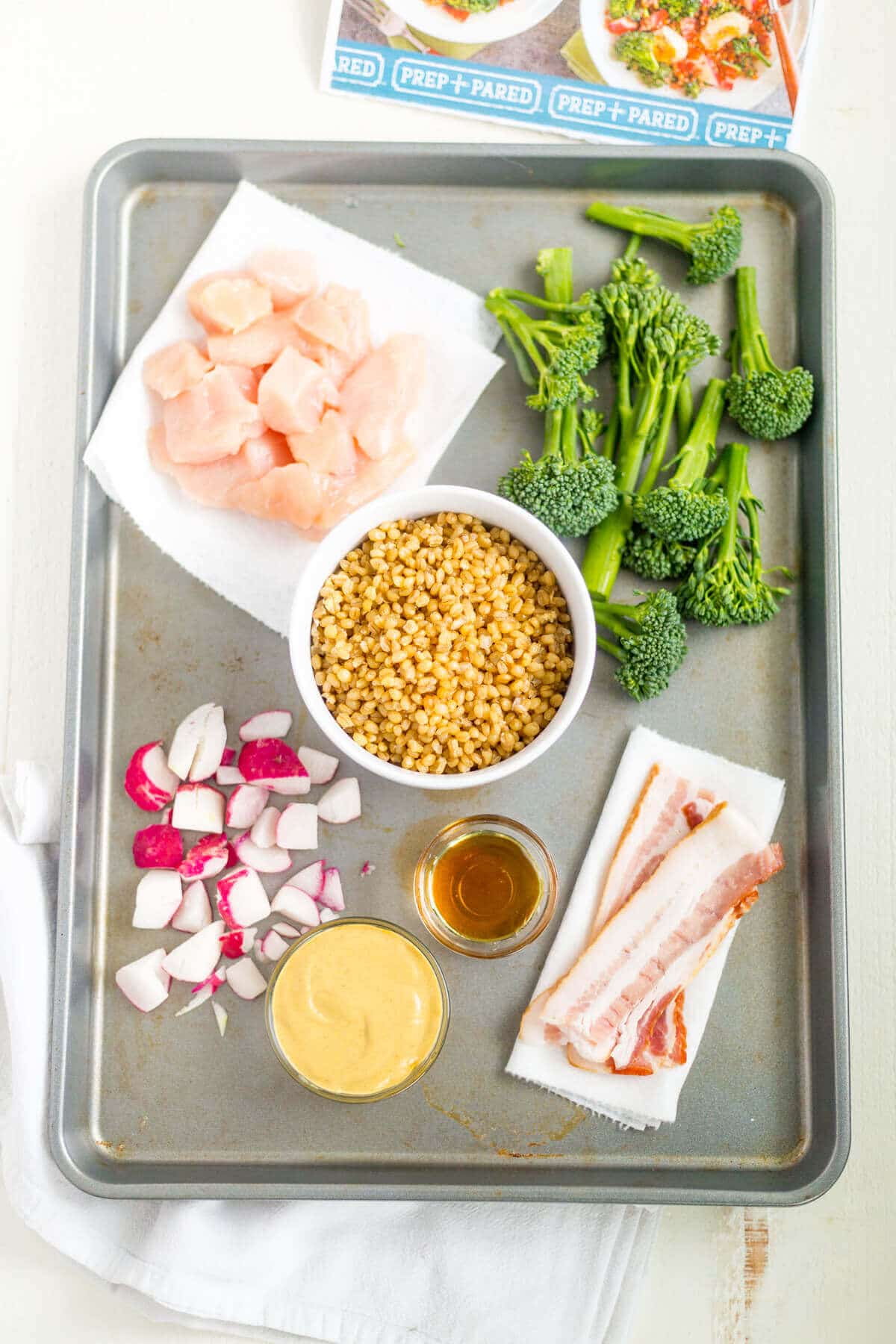 The prep+pared honey mustard grilled chicken wasn't lacking in portions or in flavor. The honey mustard suace covered and clung to the wheatberries and the veggies added a freshness to the overall dish. I loved how the kit already diced the kitchen into cubes so I didn't have to chop. They were the perfect bite-sized pieces.
The taste is just part of what I loved about the kit. How easy it was to make was a huge perk!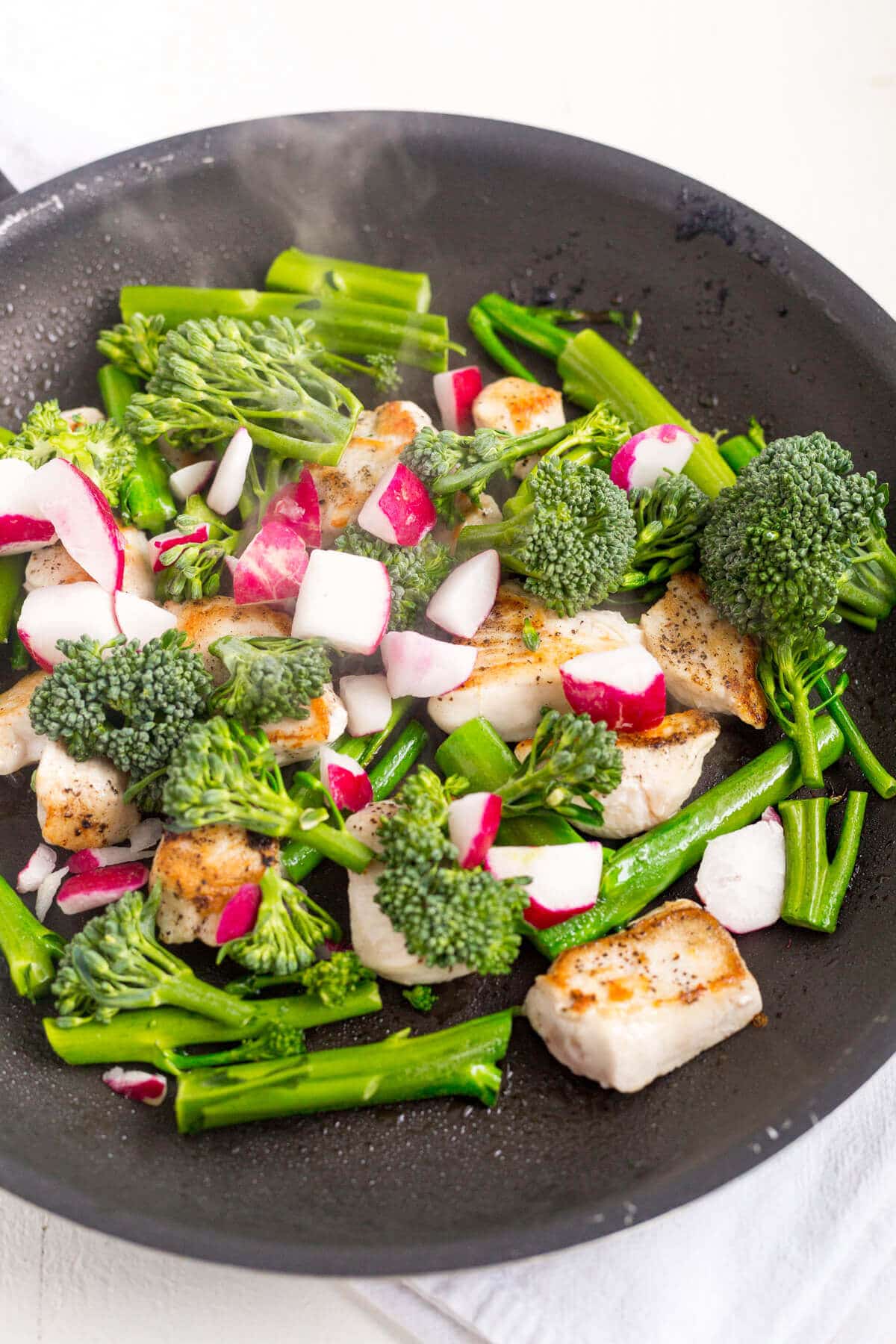 What I Love About the Kroger Prep+Pared Meal Kit:
I could spend hours searching the internet for what healthy meal I should make. Having kits and recipes already decided takes out that part of planning. No planning = more time to do the things I love, like spending time with Zach.
Once I decide on my recipe I'd have to figure out what ingredients I need and make a list. Nine times out of 10 I'd buy the same thing twice, not realizing I already have it in my pantry.
Not going to the grocery store is HUGE. Being a food blogger, you can only imagine how many trips I take to the grocery store a week. There's a good chance they know me on a first-name-basis. Naturally, cutting out one of those trips for dinner recipes is a huge perk.
The Prep+Pared Meal Kits measure exactly how much you need, nothing more. So I don't have to buy a giant bottle of mustard just to make one recipe then never use it again. Saving on waste is my kind of recipe.
Once I started the recipe to the moment I had it in a bowl it took about 20 minutes.
You can get these kits on Clicklist if your local Kroger has it. So you don't even need to go inside the store to get a healthy, planned-out recipe for dinner. But if you do go to the store they're right at the front of the produce section, you can't miss them.
I work a lot of hours and love to spend the spare time I do have with friends and Zach. In this season of my life I haven't made a ton of time for cooking healthy ingredients. These Prep+Pared Meal Kits have been a saving grace for my schedule and relationships. Zach and I had a blast making this together and it took so much less time.
How I Made this Bacon + Honey Mustard Glazed Chicken in Under 20 Minutes
I started by opening the Kroger Prep+Pared box and laying out all of the ingredients. I grabbed the olive oil and salt/pepper from the pantry and unwrapped all of the meal kit ingredients.
I started by cooking the bacon, then cooked the chicken in some of the leftover bacon grease to add some extra flavor. Once both proteins were cookies I cooked the veggies, added the honey and mustard then added the wheatberries.
I added the protein back into the pan with the other ingredients and stirred well to make a one-pot type meal. I let everything mix together and heat through and filled our bowls. That was it! Kit to fork in less than 20 minutes!
I loved it so much I even grabbed a few the next time I was at the store to meal prep for the week.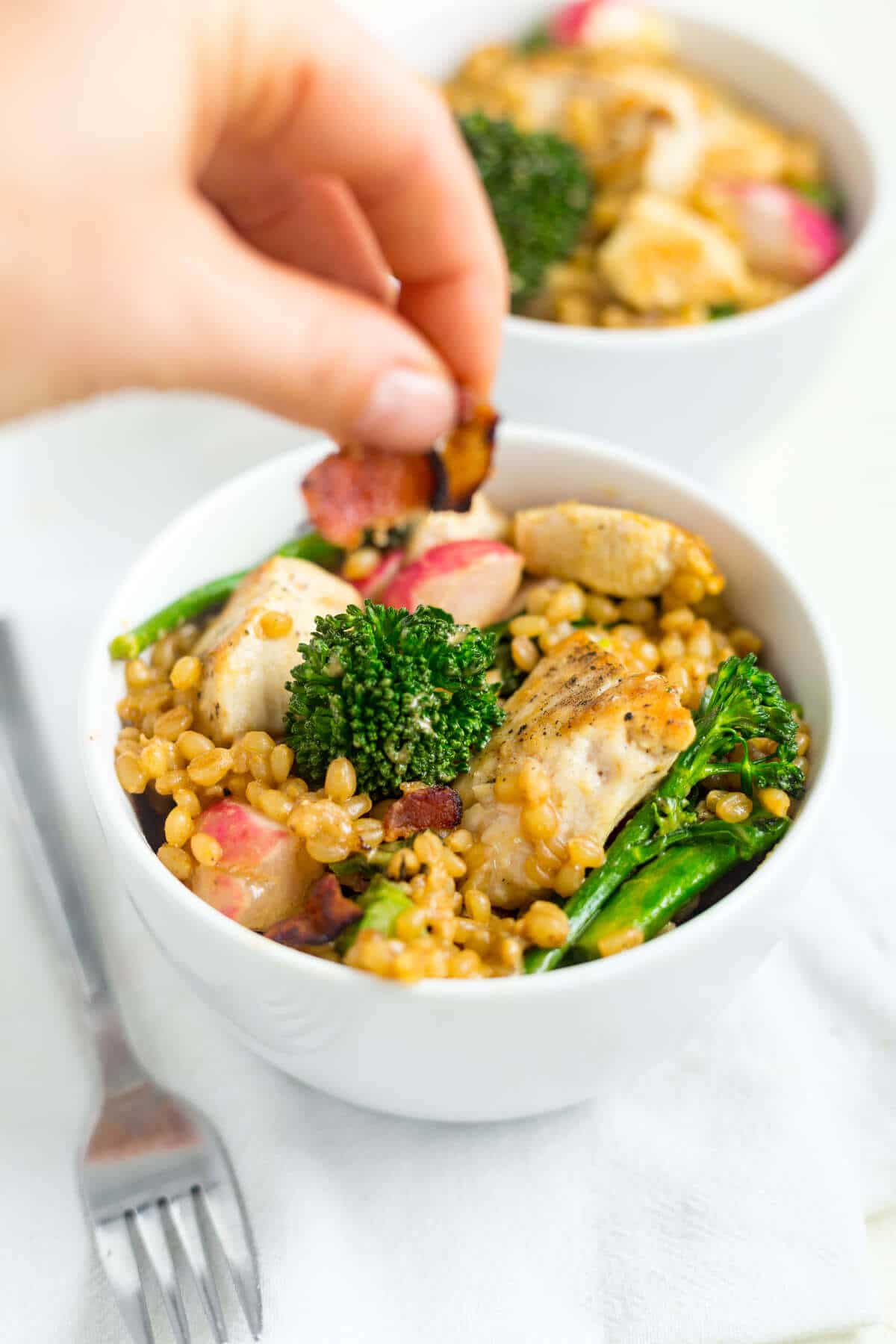 How to Make Prep+Pared Meals Ahead of Time
The Kroger Prep+Pared meal kits themselves stay fresh in the refrigerator for up to 3 days, so I bought and made a couple of the meals at once to meal prep for the week.
I followed the directions on the kits and divided them evenly among meal prep containers then stacked them in our fridge to eat lunch or save for dinner. With 3 of the kits I had more than enough lunches for the entire week.
I always get bored when I make one thing and have to eat it for lunch every day so this was perfect because I had 3 different recipes to rotate during the week. Plus some extras for busy nights!
Not to mention the recipes change every month, so what I make this month for lunches and/or dinner won't be the same next month.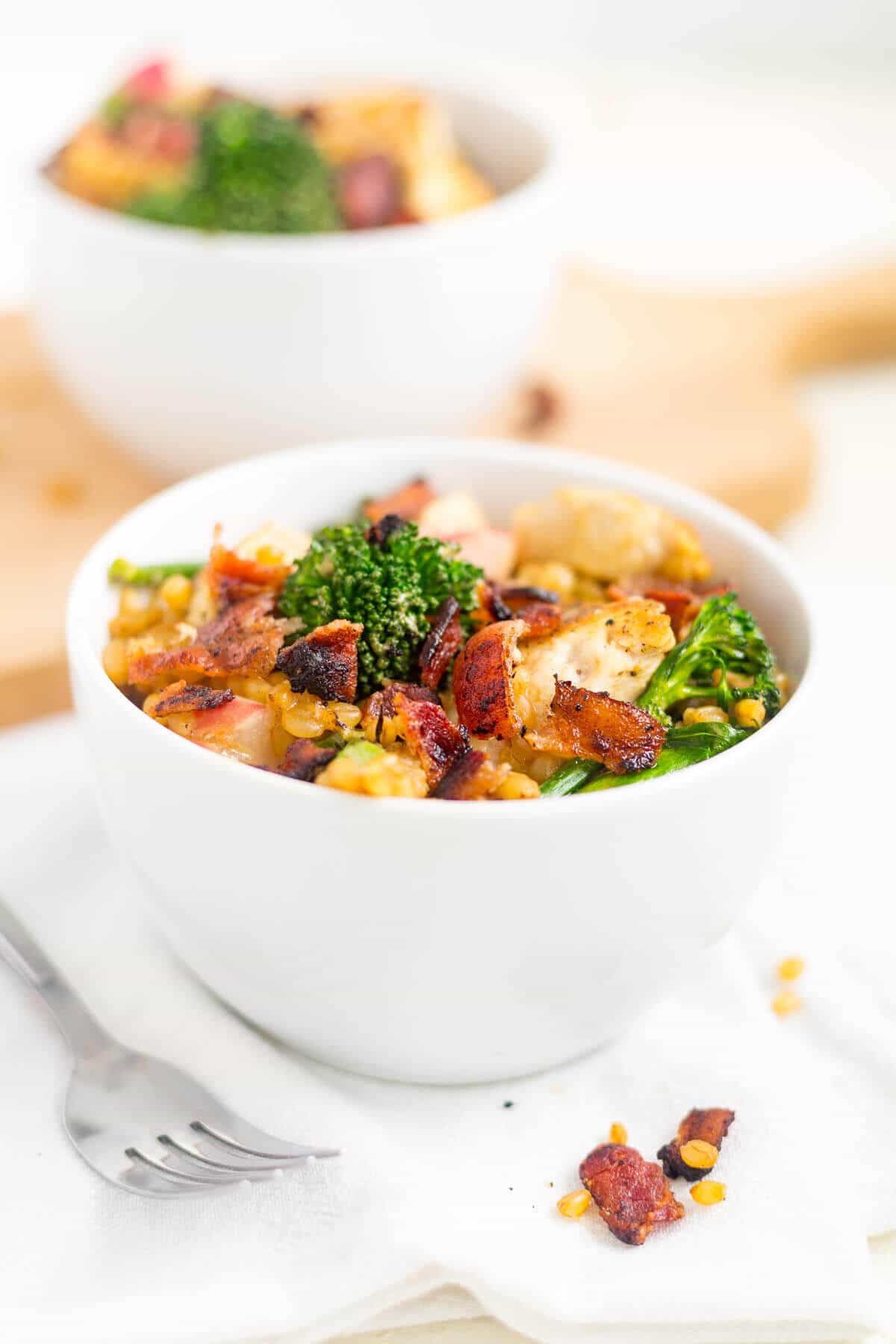 P.S. This Honey Mustard Grilled Chicken is available throughout the whole month of January.
I will definitely be adding more of these Prep+Pared meal kits to my 2018 meal plan??. Stay tuned for more healthy and easy recipes and meal ideas coming up.
And don't forget to follow along on Instagram for daily updates.
This post is sponsored by Kroger. All thoughts and opinions are my own. A huge THANK YOU to Kroger to supporting my me and WMM readers.