Apple cake apple cake! ? And let me tell you my fall-loving friends, the gooey filling in this will give you life. Enough to make it to all the pies in Thanksgiving.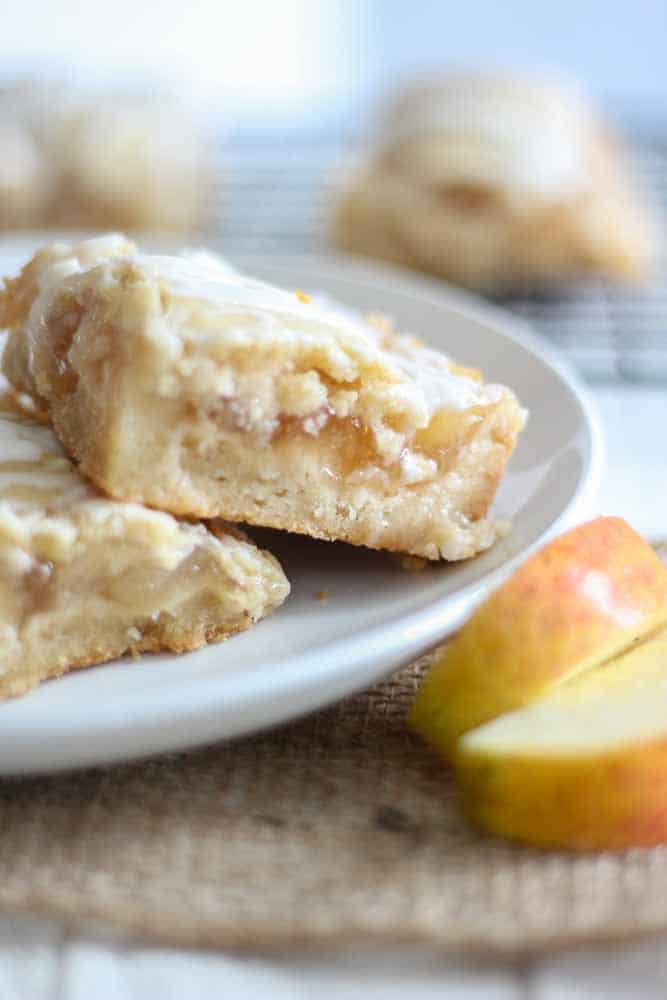 You may be shocked this is actually an apple recipe, as I've been so consumed with all the pumpkin feels the past month (paleo pumpkin bars and bread, pumpkin crumble muffins, pumpkin pie pops). But my second fall favorite flavor is apple.
I've been apple picking twice this year. Two times as many as I ever have in my life. How have I never been apple picking? It was equally life changing and therapeutic and adventereous. The second time was a little late in the season and the majority of the apples were picked over so we had to get creative. The system was quite simple: Zach bent down so I could get on his shoulders and pick all of the perfect apples at the tippy top of the trees. I would proceed to look down and Zach's face is being consumed by all branches and leaves. At the same time, he was trying to give me direction as to which specific apple to pick. Then I would laugh at his face and forget which apple he told me to grab. I'd pick the apple I felt like grabbing and we'd stop to take a picture (obvi) to capture the moment.
Then we'd repeat the process. 25 times to be exact.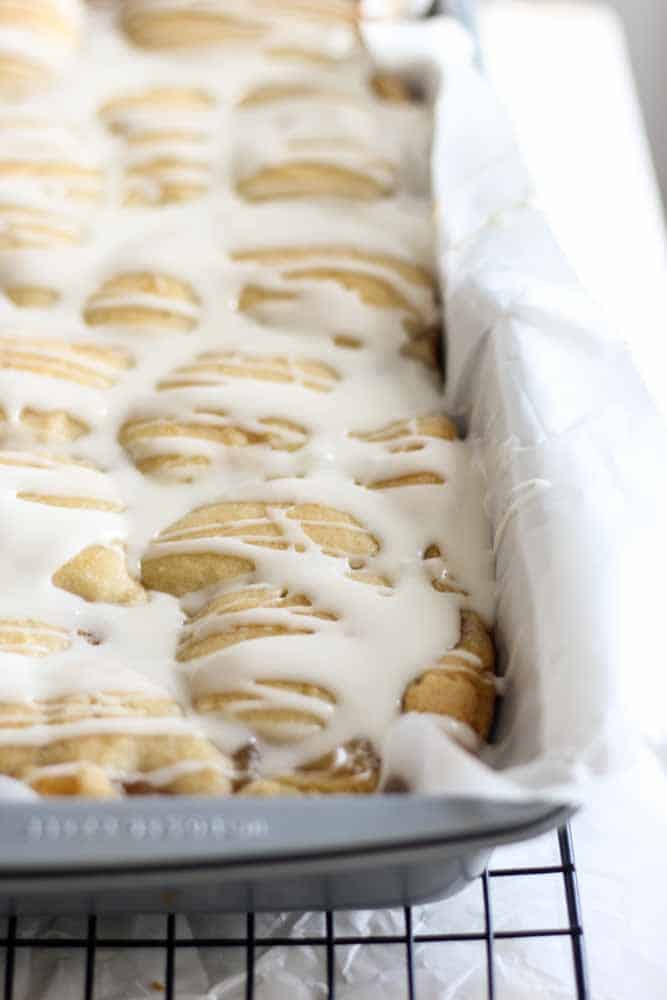 Both times we went we bought the extra large bag and filled them with around 25 apples. And both times those apples have been gone in less than a week. For two reasons. 1) Zach is obsessed with apples and eats around 3 a day. 2)I used them to make so many yummy apple desserts, like these caramel apple mini cakes and this apple cake.
You guys, the real name, if you want to get technical, for this recipe is called a "Kuchen." It's the German word for "cake." And is also the name for several other desserts in different languages. Sometimes also translated as "tart." Fun fact: Germans often have friends and family over between noon and evening for coffee and Kuchen. I think I need to start that tradition in my life.
But since I can't speak German and because I just love the word cake, I went with apple cake.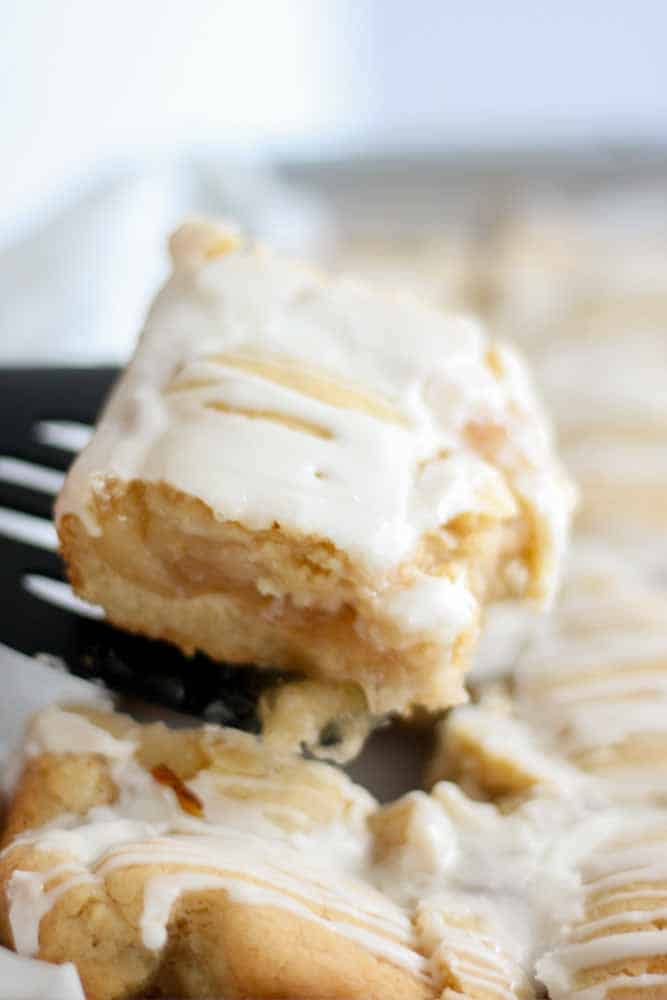 The strange thing about this dessert is it involves a lot of different desserts all in one: apple pie filling, cake texture and cut in to bars. Apple pie cake bars? Slightly confusing.
So let's talk about the cake in this apple cake.
Apple cake situation:
It's a pretty basic cake recipe. Flour, eggs, fat (butter/shortening) and sweetening (sugar). But it's so soft and melty in your mouthy. And so fluffy all at the same time. Really, it's pretty spectacular. The cinnamon is the best compliment to the apple pie filling. It bakes so high and sandwiches that sweet and fruity filling like they were made to be together.
If you're in a pinch you can absolutely use pre-made apple pie filling (that's what I did here). But I also highly recommend making your own apple pie filling and adding it. Either one is equally delicious.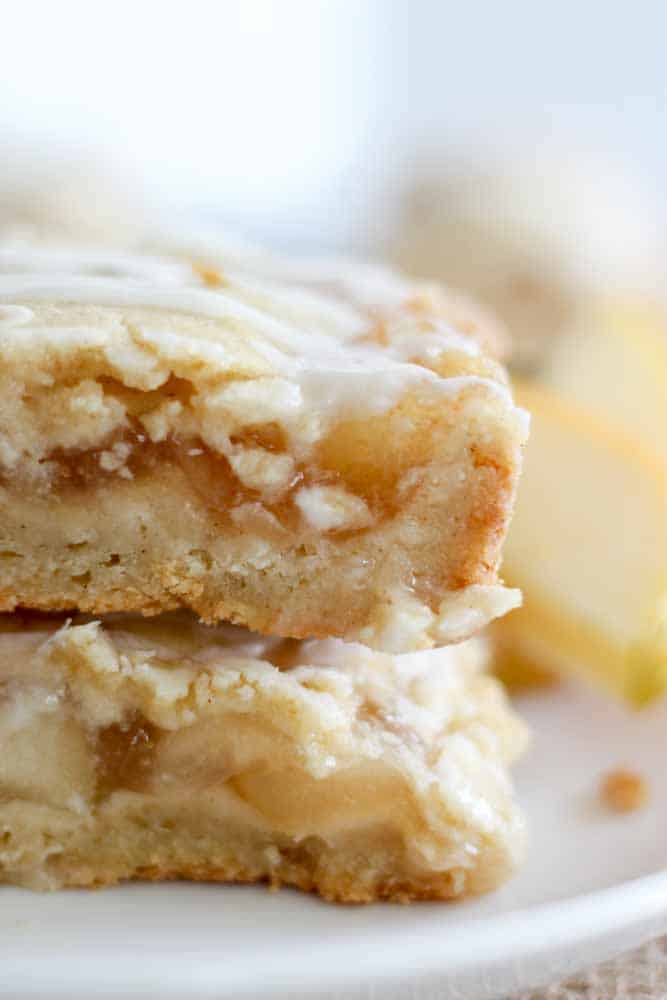 I'm sort of thinking this would be the perfect Thanksgiving dessert complement to all of that turkey and stuffing. Top the meal off with a gooey apple cake and a big scoop of ice cream. If you're a regular reader around here you know apple desserts with ice cream are some of my favorite (like this Apple Crisp or these Caramel Apple Mini Cakes)
By the way, I can't believe we're already talking Thanksgiving?! I'm really pumped about it, TBH. A holiday that's focus on being grateful and food is a holiday I love. Although I'm so grateful for all of the blessings in my life everyday I love that there is a day specifically dedicated to coming together with loved ones and eating delicious food and talking about how thankful we are.
Now that my family is older we do Thanksgiving at my parents house rather than my grandparents. This is how it usually goes down: My mom buys the rolls (didn't get my baking genes from her), my dad makes 2 turkeys (ya know, in case he messes the other one up), we say we're going to eat at 3pm (then we actually eat at 6pm) and everyone brings their dogs (sometimes I think there's more dogs than humans at our family gatherings).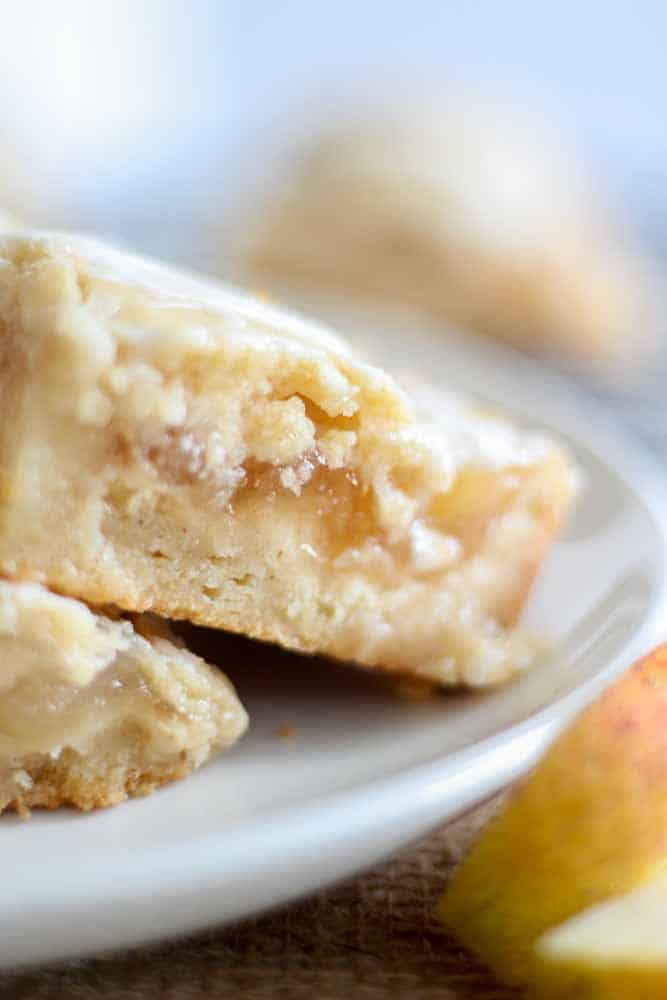 My family is so obsessed with appetizers. We make like 75 just for one party and then everyone is so full we struggle to eat dinner. Expect nothing less for Thanksgiving. The fall sangria is flowing, the apple and kielbasa is cooking in the crockpot, along with kansas caviar and other delicious apps. And this apple cake will surely be baking in the oven this year.
It's going to be so wonderful. How are you all celebrating Thanksgiving?!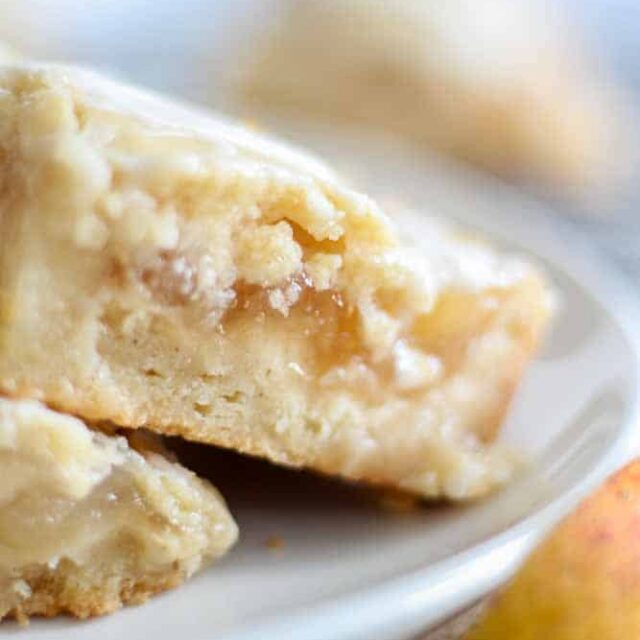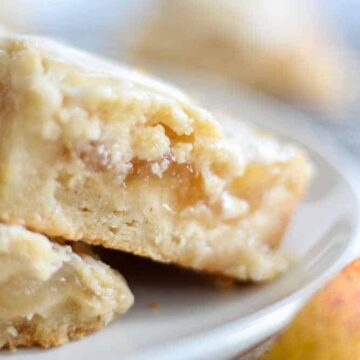 Ingredients
1/2

cup

butter

softened

1/2

cup

shortening

1 3/4

cup

granulated sugar

1 1/2

teaspoons

baking powder

1/2

teaspoon

cinnamon

1/2

teaspoon

salt

3

eggs

1

teaspoon

vanilla

3

cups

all purpose flour

1-21

oz

can apple pie filling

Icing:

1 1/2

cups

powdered sugar

1/2

teaspoon

almond extract

2

tablespoons

heavy cream
Instructions
Preheat the oven to 350 degrees (F). Spray a 13x9 in pan with cooking spray and set aside.

In a large mixing bowl with a stand mixer or hand mixer on medium speed, beat the butter and shortening with for 30 seconds. Add the sugar, baking soda and salt and beat until combined, scraping down the sides of the bowl occasionally. Add the eggs and vanilla and beat well until combined. Gradually at the flour and beat well after each addition.

Remove 1 1/2 cups of the dough and save it for the topping. Spread the remaining dough into the bottom of the prepared baking pan. Bake in the oven for 12 minutes.

Remove the cake from oven and spread the pie filling over the cake to cover the entire thing. Using a large spoon, dollop large mounds of the reserved dough on top of the pie filling. Bake for 30 more minutes or until the dough is golden brown on the top. Remove from the oven and allow to cool slightly.

While the cake is cooling, make the icing by whisking together the powdered sugar, almond extract and heavy cream. Add more cream if necessary to reach desired consistency. Drizzle icing over the cake and allow to set, about 10 minutes. Cut in to bars and serve cold or warm with vanilla ice cream.