Sweeten up your Cinco de Mayo with light, crunchy, and bite-sized churros! Made with only 3 ingredients, these churro bites are so easy and serve a crowd without a problem.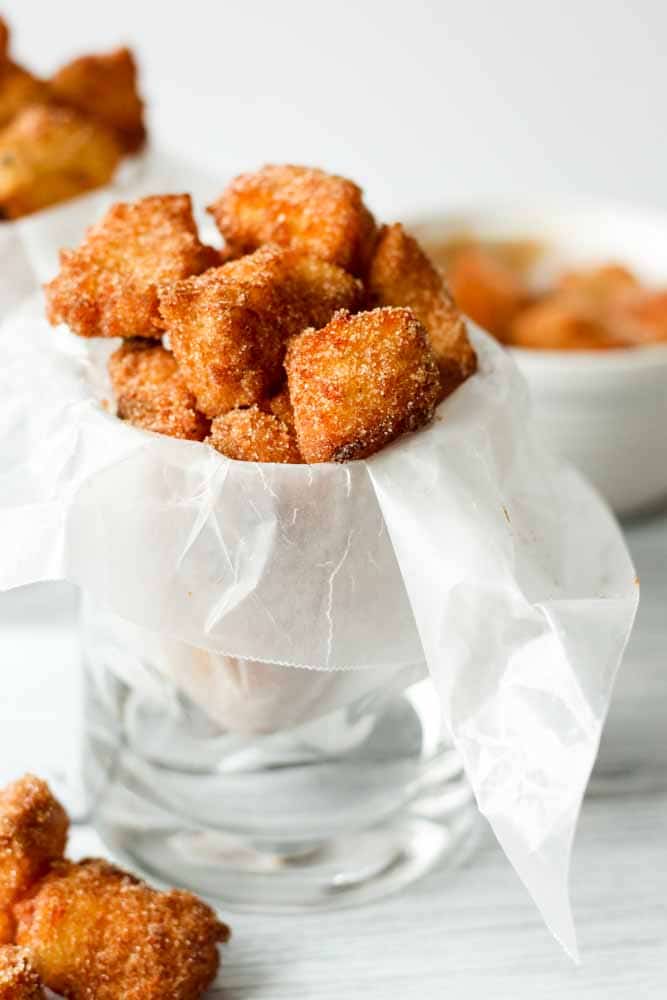 For real, Cinco de Mayo is easily one of my favorite holidays. It's right up there with Christmas and my birthday. Give me an excuse to consume copious amounts of margaritas, chips, guac, queso, and churros and I'll give you one very happy 25 year old.
I actually started planning my celebrations weeks in advance and seriously considered taking the day off work. That's normal, right?
As a full time working woman I don't have time to prepare my lunch for the day let alone whip up a perfect batch of homemade churros on the fly. Though they are phenomenal and I highly recommend you give them a try at some point if you haven't already. I'm not talking about the pre-made, frozen ones you get at the baseball game or the mall. I'm talking the authentic and fresh dough you drop into bubbling oil and watch it turn golden brown in front of your eyes.
If you don't have the time (like me), I've created the perfect balance between the two: not frozen but not quite as time consuming as the real ones. Enter angel food cake.
You only need three ingredients to make these churro bites:
pre-made angel food cake
cinnamon
sugar
They're light and crispy and just about the greatest cinnamon sugar dessert recipe you will have in the month of May. I can't actually promise that, but it's a very highly educated guess.
Because I've done extensive research. And by that I mean I pretty much ate them all when I was recipe testing.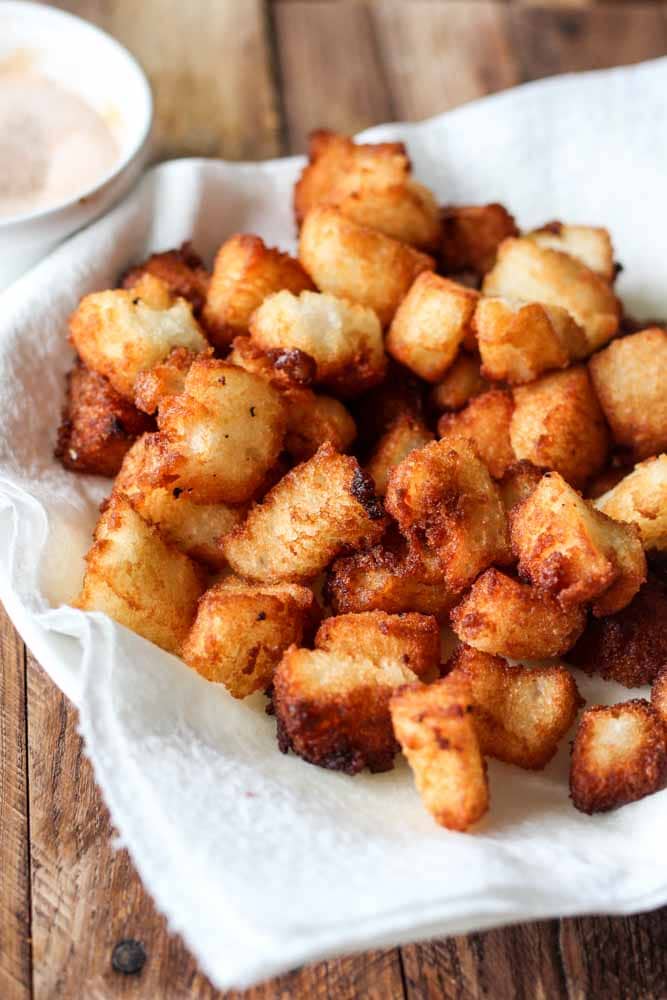 Using oil and frying things used to terrify me. I had this picture in my head of oil flying everywhere getting all over my kitchen and burnt pieces of dough getting lost in the oil, then I actually tried it and it wasn't like that at all.
There's just a few simple tips to make it happen:
Use good oil. This doesn't really have anything to do with not making a mess but it makes a difference in the quality and taste of your churros. I used peanut oil but you can absolutely use something a little healthier. Next time I'm going to try coconut oil! It's one of my favorite cooking ingredients and works great for frying.
Use a deeper sauce pan. This helps prevent oil from splattering!
Use a deep frying skimmer. It's those long wooden utensils with the mesh scoop. You just grab the churros and all the oil won't come with it.
Have a plate covered with paper towels ready. Keep it close to your pot and quickly transfer to the plate to drain further.
Use a thermometer. The best frying temperature happens between 350 and 375 degrees. By keeping the oil at the temperature you can ensure your churro bites are cooked properly and won't burn.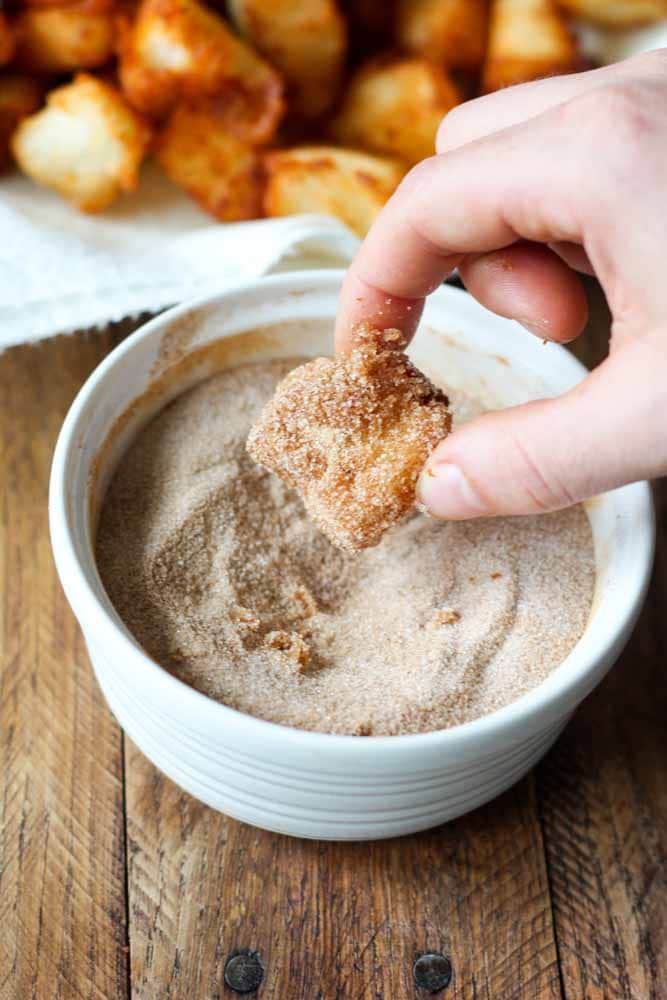 The first few I did I kept them in the oil a little too long. They were slightly too brown for my liking. I found my sweet spot was about 7 seconds per side. These things are tiny so at a high temperature they cook fast!! Put 5-10 churro bites in at a time (if you put too many in at once it could lower the oil temperature too fast), and watch them carefully.
I dropped mine in the oil and grabbed my frying skimmer and stood over the pot ready to scoop them out! Total it takes about 5-10 minutes to get through all of them.
Once they cool a bit on the paper towel you roll them in cinnamon sugar and enjoy! This recipe makes a good amount of churro bites so they're perfect for a party.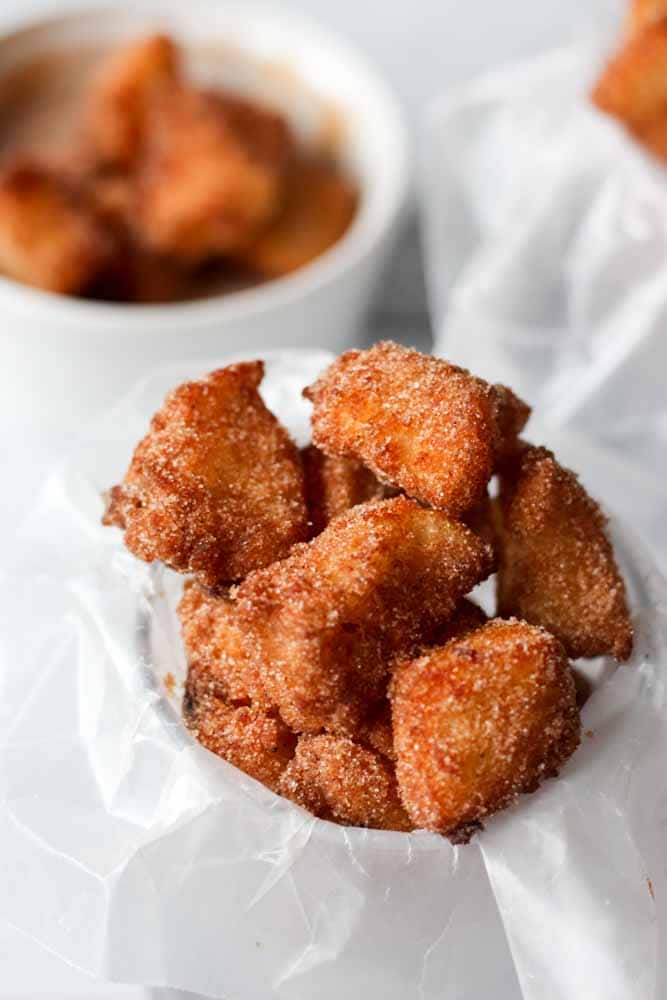 Salud, friends! And I hope you're Cinco de Mayo is filled with churros, margs and guac!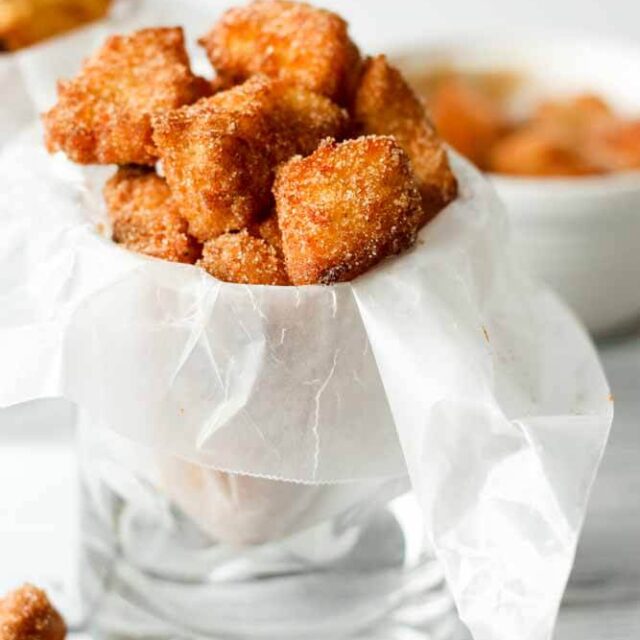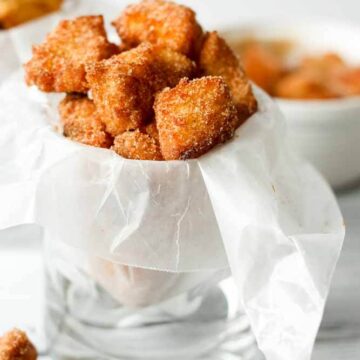 Ingredients
1

premade angel food cake

1

cup

granulated sugar

2

teaspoons

cinnamon
Instructions
Cut angel food cake into one inch cubes. They don't need to look perfect.

Heat 1 ½ inches of oil in a heavy bottom pot over medium heat to 360 degrees. Keep a close eye on the temperature to make sure it says between 350 and 375 degrees. You may need to remove from heat for a few seconds if it starts to get too hot.

Drop pieces of angel food cake into the oil in 5-10 churro increments. Allow to fry until golden brown, about 7 seconds on each side. Watch carefully and flip over to make sure all sides are cooked evenly. Remove from oil and place on a paper-towel covered plate to drain.

When all churros are cooked, combine granulated sugar and cinnamon together in a medium bowl. Toss warm churros in mixture to coat evenly.

Serve with a scoop of vanilla ice cream, hot fudge or just by themselves!